In a recent safety communication, the FDA discouraged the use of power morcellators for hysterectomies or the removal of uterine fibroids, because of a concern of cancer risk. Since then, health experts have been debating the pros and cons of this procedure, with many hospitals and organizations already restricting its use.
What are the Benefits of Power Morcellation?
It used to be that women who suffered from symptomatic uterine fibroids—tumors in the uterus—had to go through traditional surgery, which required a large incision in the abdominal area. New, minimally invasive technology, however, which uses a laparoscopic tube, later allowed surgeons to perform the same surgeries through much smaller incisions.
These less invasive procedures result in reduced blood loss, less postoperative pain, faster healing and recovery from surgery, and a reduced risk of surgical site infection. Patients are typically able to return more quickly to their regular everyday activities.
The power morcellator is a surgical tool approved by the FDA in 1993. It allowed surgeons to perform hysterectomies and uterine fibroid removal through a laparoscopic tube. In the past, doctors couldn't do that because the tissues were too large, but the power morcellator fits through the tube to the surgical site, where it cuts up the tissues into much smaller pieces that can be drawn out through the tube.
Many women have benefitted from the use of the morcellator—since it facilitated minimally invasive hysterectomies and uterine fibroid procedures¬—but some experienced serious and life threatening side effects.
Some Women Devastated by Uterine Cancer
The Journal of the American Medical Association (JAMA) published a study in March 2014 noting that the power morcellator could disperse small pieces of undetected malignant tumors throughout the abdominal cavity, where they could seed other, potentially more dangerous cancers.
Most of the time, uterine fibroids are not cancerous. There are rare occasions, however, when they are. You'd think doctors could solve the problem simply by testing the tissues to determine whether they were cancerous or not, but currently, there is no screening for uterine cancer. According to the JAMA report, "Because it's not possible to reliably detect the presence of uterine sarcomas before surgery, some experts say that the use of the technique—known as intracorporeal uterine morcellation, which can be performed with an electric morcellator or by hand with a knife—may be too risky under any circumstance."
Already, a number of women have been affected by this danger. Dr. Amy Reed, for example, an anesthesiologist at Beth Israel Hospital in Boston, underwent fibroid surgery, and a few days later, was diagnosed with a dangerous Stage IV uterine cancer. She didn't know she had cancerous tumors in the uterus prior to the surgery, and was therefore unaware of the risks of morcellation. She and her husband, Hooman Noorchashm (a cardiothoracic surgeon) have launched a campaign to spread awareness of the issue.
Up to Women and Their Doctors
Uterine cancer is rare—but surgery with morcellation can create a much more serious form of cancer that spreads through other areas of the body. Women going through the procedure have not been warned of the risks up to this point. Healthcare experts are debating whether morcellation should even be used at all in the future.
Alternative procedures include the traditional abdominal hysterectomy, vaginal hysterectomy, or another procedure that removes the uterine tissue through another type of incision. These may require longer recovery times, however. Some surgeons have also suggested the use of a bag, which would catch and contain the tiny tissues cut up by the morcellator.
The ideal solution would be new technology that allows the identification of uterine cancer prior to morcellation, but we're not there yet. Meanwhile, women and their surgeons need to decide what's best in each situation. Uterine cancer is rare in women younger than 35, with risk increasing as they age, but women deserve to know all the risks involved, so they can better make a more informed decision.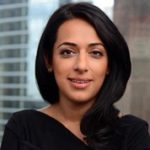 Exclusively focused on representing plaintiffs—especially in mass tort litigation—Roopal Luhana prides herself on providing unsurpassed professional legal services in pursuit of the specific goals of her clients and their families. While she handles complex cases nationwide on behalf of consumers, Ms. Luhana resides with her family in Brooklyn, New York.