On April 10, 2015, Illinois resident James Boyle filed a new table saw lawsuit against Black & Decker, Inc. The plaintiff claims he was unnecessarily injured when working on his Black & Decker table saw, and seeks in excess of $75,000 in damages. The case is pending in the U.S. District Court for the Northern District of Illinois.
Table Saw Manufacturers Behind on Protecting Consumers
Back in 2010, a Massachusetts jury set a precedent when they awarded woodworker Carlos Osorio $1.5 million in damages for injuries he sustained while working on a Ryobi table saw. The plaintiff claimed that so-called "flesh-sensing" technology, which had been on the market for a decade at the time, could have prevented his injuries, but that Ryobi had simply neglected to take the steps necessary to make their saws safer for consumers.
The plaintiff in this newer case has a similar point of view. He was working with his DeWalt table saw on April 12, 2015. He says he was using it in a reasonable manner and had taken appropriate safety precautions when his left thumb came into contact with the saw blade. He suffered severe and permanent injuries, including physical impairment and disfigurement.
Boyle claims that the defendants were aware of flesh-sensing technology, which can stop the blade from spinning within milliseconds after contacting skin. Had the saw been equipped with such technology, Boyle likely would have escaped with little more than a minor scratch. Defendants watched a presentation of the technology back in the year 2000, but failed to pursue a license or to incorporate similar technology into their product.
New Standard of Safety in Table Saws
It used to be that amputated fingers and hands and serious avulsions and other injuries were part of the risk of working with a table saw. When Steve Gass introduced his "SawStop" technology in 2000, all of that changed. When none of the main manufacturers agreed to license it, he created his own company and now sells SawStop table saw equipped with flesh-sensing technology.
Just this year, Bosch also came out with a new table saw that contains their own version of SawStop. Called the "Reaxx," this saw also stops the blade within milliseconds of touching skin, and drops it below the table surface where it can no longer cause damage or injury.
Meanwhile, many other table saws remain as they have been for decades—without this type of safety technology. Boyle claims in his complaint that to neglect this upgrade at this point denotes a defective design in the product, leaving it unreasonably dangerous.
Table Saw Injuries Affect Thousands of People
According to the U.S. Consumer Product Safety Commission (CPSC), the table saw caused an estimated 79,500 hospital emergency room visits between 2007 and 2008. The commission awarded a safety commendation to SawStop in 2001, but that didn't help to encourage manufacturers to implement it on their machines.
Manufacturers have argued that adding such technology would make their saws too expensive, and open them up to additional litigation. Yet as shown by the filing of this case, standards of safety have changed, and consumers are demanding manufacturers catch up with the times.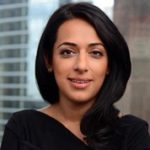 Exclusively focused on representing plaintiffs—especially in mass tort litigation—Roopal Luhana prides herself on providing unsurpassed professional legal services in pursuit of the specific goals of her clients and their families. While she handles complex cases nationwide on behalf of consumers, Ms. Luhana resides with her family in Brooklyn, New York.