Back in April, the FDA estimated about 1 in every 350 women going through hysterectomy or myomectomy for the treatment of uterine fibroids will have an unsuspected sarcoma—a type of uterine cancer that can reportedly be spread around the body if a power morcellator is used during surgery.
Now, a recent review of medical records for more than 230,000 patients confirms this estimate. Researchers from Columbia University found that one in 368 women treated with power morcellation had unsuspected cancers diagnosed after the procedures. The study has added more evidence that power morcellation presents serious cancer risks in some women.
Study Confirms FDA's Estimates
For the study, researchers identified women from 500 U.S. hospitals who had gone through minimally invasive hysterectomies between 2006 and 2012. They found over 36,000 of them had undergone procedures with power morcellators, which cut up larger tissues into smaller ones that may be removed through small incisions. These devices have made it possible for women to go through these surgeries with less risk and faster recovery, but recent evidence has found that in some women, the morcellators can leave tiny cancerous tissues behind.
Results showed the following:
• One in 368 of the women had uterine cancer that was undetected until after the surgery.
• Nearly a third of the women—32 percent—were under the age of 50. (This was somewhat of a surprise as many doctors have stated that morcellation is safer in younger women.)
Lead author Jason Wright, director of Columbia University College of Physicians and Surgeons' gynecologic oncology division, noted that the study should help provide additional evidence in the debate over morcellators, as well as give patients a better idea of the risk when they're making decisions about uterine fibroid treatment.
Two Sides of the Morcellator Debate
This study comes at a good time, when the debate continues to rage about whether or not the FDA should ban power morcellators. On one side are healthcare providers who believe they are too risky to be used, and that they should be banned until new methods are found to reduce the risk of spreading cancer. Already many hospitals and doctors have stopped using them. Many women who have gone through the procedure and have been diagnosed with cancer also feel the devices should be taken off the market.
On the other side of the debate are healthcare providers who feel that most women would be unnecessarily penalized if morcellators are banned, as then they would no longer have access to minimally invasive fibroid surgery.
J&J Recalls Morcellators
Johnson & Johnson (J&J) recently announced that they are implementing a voluntary global recall of all of their morcellator devices. They stated that at the present time, the risks and benefits are unclear.
A number of other manufacturers are still selling power morcellators, however, including Storz, Richard Wolf, LiNA, and Blue Endo.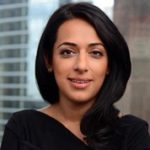 Exclusively focused on representing plaintiffs—especially in mass tort litigation—Roopal Luhana prides herself on providing unsurpassed professional legal services in pursuit of the specific goals of her clients and their families. While she handles complex cases nationwide on behalf of consumers, Ms. Luhana resides with her family in Brooklyn, New York.