The U.S. Consumer Product Safety Commission (CPSC) announced a new recall of lithium-ion batteries for HP notebook computers and mobile workstations. The batteries can reportedly overheat, posing a risk of fire and burn hazards.
About 50,000 units are affected, and the company is currently telling consumers to visit the company's website to see if their battery is included in the recall. This is one of many recalls associated with lithium-ion batteries, which if they are not correctly manufactured or designed, can overheat and cause explosions and fires.
HP Warns Consumers to Stop Using Batteries
Batteries affected by this recall were shipped with the following HP products:
HP ProBook 64x
HP ProBook 65x
HP x360 310 G2
HP ENVY m6
HP Pavilion x360
HP 11 notebook computers
HP ZBook mobile workstations
The batteries were sold around the world between December 2015 and December 2017, and were also sold as accessories. Many are internal to the products and cannot be replaced by consumers. For these, HP has stated that it will provide free battery replacement services. The company is also recommending consumers download their BIOS update, which discharges the battery and stops it from recharging again. The computer can still be used with a power adaptor.
The company has received eight reports of these batteries overheating, melting, or charring, including three reports of consumers suffering property damage totaling more than $4,500. There was one report of a minor injury—a first-degree burn to a hand.
The products with the batteries were sold at Best Buy, Amazon, HP's website, and other authorized dealers.
Exploding Batteries the Result of Inadequate Safeguards
According to the Federal Aviation Administration (FAA), in the first four months of 2017, there were 17 reports of incidents with devices containing lithium-ion batteries. The administration warned that their list shouldn't be considered as complete, as there were probably other problems that weren't reported. Each incident involved the batteries overheating, smoking, and catching fire in airplanes.
In one incident, for example, which occurred in May 2017, a shipment of 13 boxes of laptops in the cargo facility was bumped, and one box fell to the ground. On impact, the box started to smoke and also produced heat. The box and the laptop inside were charred and partially melted, and was later found to contain a laptop computer with a lithium-ion battery in it.
Part of the problem is that inside these batteries, there is a thin slice of polypropylene that keeps the batteries electrodes from touching. If this separator moves or otherwise fails, the electrodes come into contact with each other and increase the risk of overheating. The batteries also contain a flammable electrolyte that can catch fire when it gets too hot.
Manufacturers can increase the safety of these batteries by taking the time to implement appropriate safeguards. A lack of proper insulation, inadequate ventilation, or a poor overall design can increase the risk of problems down the road.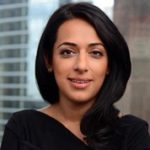 Exclusively focused on representing plaintiffs—especially in mass tort litigation—Roopal Luhana prides herself on providing unsurpassed professional legal services in pursuit of the specific goals of her clients and their families. While she handles complex cases nationwide on behalf of consumers, Ms. Luhana resides with her family in Brooklyn, New York.