Two gynecological organizations, the American College of Obstetricians and Gynecologists (ACOG), and the AAGL, formerly known as the American Association of Gynecologic Laparoscopists, released reports in May 2014 confirming there is no way to unequivocally confirm if a woman has a uterine sarcoma before operating.
According to the report from ACOG, statistics from the American Cancer Society predict 1,600 cases of uterine sarcoma. The ACOG said it is "well established" that using minimally invasive procedures save women from illness or death associated with more invasive forms of uterine surgery.
The ACOG recommends that doctors conduct a "thorough patient evaluation," before deciding to use morcellation during uterine surgery, but even a thorough exam may not rule out uterine sarcoma. The ACOG recommendations include checking patients for uterine size, rapid uterine growth, and hereditary conditions and certain treatments that may increase the risk for uterine sarcoma.
The ACOG has found that women who are postmenopausal or perimenopausal are at an increased risk of an "occult malignancy." Additionally, age is a key factor. The greatest occurrence of uterine sarcoma is in women over 65 years old.
After doctors go through these checkpoints with patients, it is still not sufficient to rule out uterine sarcoma in patients.
In December 2013, the Society of Gynecologic Oncology (SGO) released a statement on morcellation, to "morcellat[e] the uterus inside a laparoscopic bag," which would eliminate the risk of spreading any potentially malignant tissue.
FDA Discourages the Use of Power Morcellation for Uterine Surgery
The FDA released a statement on April 17, 2014 discouraging doctors from using laparoscopic power morcellation to remove uterine fibroids or the uterus due to an increased risk of spreading cancer.
Laparoscopic power morcellation is a minimally invasive procedure that uses a surgical tool called a morcellator. The morcellator cuts up the tissue into small pieces and removes the tissue through tiny incisions in the abdomen.
Women who undergo power morcellation to remove fibroids or the uterus may have an unsuspected uterine sarcoma. The FDA said based on data the procedure can spread this cancerous tissue to other parts of the body.
Power Morcellation Lawsuits
If you or a loved one have undergone a power morcellation procedure for uterine surgery and were diagnosed with cancer you need to call a morcellation attorney. You may be entitled to compensation.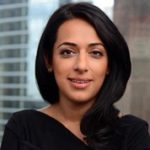 Exclusively focused on representing plaintiffs—especially in mass tort litigation—Roopal Luhana prides herself on providing unsurpassed professional legal services in pursuit of the specific goals of her clients and their families. While she handles complex cases nationwide on behalf of consumers, Ms. Luhana resides with her family in Brooklyn, New York.