The message is getting out. Since the April 2014 safety communication by the FDA, which warned about the potential cancer risks when using power morcellators during uterine fibroid removal, more women have become aware of the issue.Women who are facing uterine fibroid surgery are talking to their doctors. Should they go for the standard, minimally invasive laparoscopic surgery, which uses a power morcellator to cut up tissues and remove them through a small incision? Or should they opt for more traditional surgery, which may leave a more visible scar?
California resident Sarah Salem-Robinson was one of these women. She had heard about the cancer risks. She knew that if there were any cancerous tissues in her uterine fibroids, a power morcellator could potentially spread them around, resulting in a more serious and advanced form of cancer. But, according to Salem-Robinson, her doctors assured her that she didn't have cancer, so she underwent the laparoscopic procedure in May 2012. Two weeks later, she was told one of the fibroids was malignant, and she started treatment for cancer.
Screening for Uterine Cancer Ineffective
So far, we have no way to determine for sure whether cancerous tissues may be present in the uterus or in uterine fibroids prior to a gynecological surgery. The type of cancer that may be lurking in this area of a woman's body is particularly difficult to find. Doctors may perform a uterine biopsy and an MRI of the pelvis, but these will detect cancer only some of the time.
It's rare that uterine fibroids will contain cancerous tissues. The FDA estimates about one in 350 women undergoing hysterectomy or myomectomy for the treatment of fibroids will have such rare cancers. Still, if these women undergo surgery with a power morcellator, the device may spread the cancerous tissues, resulting in a diagnosis of advanced cancer that may worsen long-term survival.
Patient Diagnosed with Cancer After Morcellation
Salem-Robinson was a physician's assistant at the Kaiser Permanente Santa Clara medical center, familiar with uterine fibroids. When she was diagnosed with the growths, she talked to her doctor about her concerns, according to the Washington Post. She suggested a traditional "open" surgery that would be performed through a large abdominal incision and would involve no cutting up of the tissues. According to the Washington Post, her doctor told her that wasn't necessary, and that her fibroids were not cancerous.
After going through a minimally invasive laparoscopic procedure, she ended up having to go through aggressive treatment for her uterine leiomyosarcoma, a rare and serious form of cancer. She later developed four small lesions in one of her lungs. These lesions were likely seeded from stray tissues set loose by the morcellator.
Salem-Robinson and her husband filed a power morcellator lawsuit on May 13, 2014, against Richard Wolf Medical Instruments, the manufacturer of the device.
FDA Considering Future Action
The FDA convened an advisory panel on July 10, 2014, to gather more information on the risks associated with power morcellators. Physicians, patients, and concerned organizations presented their opinions on the issue. Some are in favor of banning morcellation entirely, while others want to find new ways to make it safer, so that the majority of women may continue to enjoy minimally invasive surgery.
The FDA may take further action in the future. It may implement a black box warning on the devices, so that doctors and hospitals are aware of the risks. Meanwhile, women who have suffered a cancer diagnosis after a uterine fibroid procedure with a power morcellator may be eligible to file a personal injury lawsuit. Many of these lawsuits are already pending in courts around the country.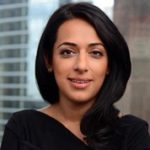 Exclusively focused on representing plaintiffs—especially in mass tort litigation—Roopal Luhana prides herself on providing unsurpassed professional legal services in pursuit of the specific goals of her clients and their families. While she handles complex cases nationwide on behalf of consumers, Ms. Luhana resides with her family in Brooklyn, New York.