Women who have been diagnosed with a serious and sometimes life-threatening cancer because of laparoscopic surgery with a power morcellator are fighting back. A California woman and her husband, for example, recently filed a morcellator lawsuit against Richard Wolf Medical Instruments Corporation. They allege the surgical tool, used during the woman's hysterectomy, may have spread cancerous tissues into other areas of her body.
In April 2014, the FDA warned that laparoscopic surgery for hysterectomies and uterine fibroid removal may result in the unintended spread of cancerous tissues.
Morcellators Allow Removal of Large Organs Through Small Incisions
According to court documents (Case 5:14-cv-02209-PSG), the plaintiff underwent a supracervical hysterectomy on May 18, 2012. The surgeon used the Wolf Power Morcellator manufactured by Richard Wolf Medical Instruments Corporation to cut up the uterine tissues into smaller pieces.
Such procedures are common because they allow surgeons to remove large tissues through small incisions, resulting in less blood loss, a reduced risk of infection, and a faster recovery time. It is rare for there to be cancerous tissues in the uterus or in uterine fibroids (tumors growing in the uterine wall), but it can happen. Unfortunately, there are currently no accurate screening tests to detect them prior to surgery.
When the morcellator cuts up the tissues, most are removed, but there is a risk that some may be left behind to migrate to other areas in the body. If these are cancerous tissues, they may re-seed malignant tumors in other locations.
Plaintiff Undergoes Painful Tests & Treatments
The plaintiff had no evidence of cancer prior to the surgery, but after it was over, doctors informed her that one of her fibroids had been a cancerous tumor. They then told her that since the morcellator cut up those tissues, there was a risk that some had been left behind in the abdominal area, where they could later migrate to cause other cancers.
Because of this risk, the plaintiff had to undergo a number of aggressive treatments and therapies. She states in her complaint that she has endured pain and suffering as a result of these treatments. She also later developed four small lesions in one of her lungs that she believes are a result of the procedure with the morcellator.
Companies Failed to Provide Adequate Warnings
This is one of many morcellator lawsuits filed in various courts around the country, as more women become aware of the risks they were exposed to during uterine fibroid procedures. The FDA recently estimated that one out of 350 women who undergo laparoscopic hysterectomy or uterine fibroid removal has undetected cancerous cells in her uterine area, and may be at risk for additional, aggressive cancers.
The plaintiffs bring counts of negligence, strict products liability, breach of warranties, and fraudulent misrepresentation and omission. They seek compensatory, economic, and punitive damages.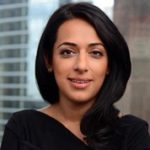 Exclusively focused on representing plaintiffs—especially in mass tort litigation—Roopal Luhana prides herself on providing unsurpassed professional legal services in pursuit of the specific goals of her clients and their families. While she handles complex cases nationwide on behalf of consumers, Ms. Luhana resides with her family in Brooklyn, New York.