After several delays and a lengthy battle in Congress, the Camp Lejeune Justice Act is finally headed to the President's desk.
The new bill will provide long-overdue justice for victims of water contamination at the military base in North Carolina.
Camp Lejeune Act Finally Passes Congress
The U.S. Senate voted Tuesday night (August 2nd, 2022) to pass bipartisan legislation with a final vote of 86-11. The act was part of the PACT Act, which expands VA health care for veterans exposed to toxins from burn pits and other sources.
The bill combines two benefits for veterans:
Provides health care to veterans exposed to toxic burn pits while serving in the military without requiring them to prove exposure before receiving care.
Gives veterans exposed to toxic water on Camp Lejeune between August 1, 1953, and December 31, 1987, the ability to sue the Federal government for damages related to any health issues they may have developed because of the exposure.
As recently as Monday (August 1st), the future of the bill was uncertain. After legislatures added an amendment to allow a more gradual, phased-in approach to the rules, it had gone back to the House for approval, where it was passed on July 13, 2022.
It was expected to move to the Senate for quick final approval, but a group of GOP Senators surprisingly blocked the bill.
Members pointed to a budgetary policy dispute and expressed concerns about the Veteran Administration's (VA's) ability to oversee the implementation of the act. The question was whether the government organization had the resources to implement the bill without creating backlogs in claims and delays in veterans receiving care.
Despite these concerns, the Senate allowed votes on Tuesday, and the bill passed. It now heads to President Biden's desk, who vowed previously to sign the bill into law.
Chemicals Found in Camp Lejeune Drinking Water Linked with Health Effects
Once the new bill is signed, it will allow veterans, their families, non-military civilian workers, contractors, and any other individuals who lived and worked at the Camp Lejeune military base between the 1953 and 1987 specified dates to recover damages for harm from exposure to contaminated water.
Investigators from the U.S. Army Environmental Hygiene Agency collected water samples showing toxic chemicals like tetrachloroethylene (PCE) and trichloroethylene (TCE) at Camp Lejuene back in 1980.
The results of the tests showed water that was "highly contaminated" with chemicals, some of which are known carcinogens. Later tests found that some of the water was contaminated with benzene—a known carcinogen—as well.
Despite repeated tests and reports, however, little was done to protect residents at the base. It wasn't until between 1984 and 1985 that the contaminated wells were shut down and taken out of service.
Human studies have shown that exposure to these chemicals can increase the risk of several health problems, including certain types of cancer, cardiac effects, birth defects, miscarriage, Parkinson's disease, kidney disease, neurologic effects, and more.
Victims Now Have a Path to Seek Justice
In July 2012, Congress passed the  Camp Lejeune Families Act of 2012. It granted specific benefits related to the water contamination issue but didn't go far enough to help victims recover from the sustained they sustained.
In January 2017, the VA published a new rule that made it easier for veterans, reservists, and National Guard members to obtain disability benefits if they suffered from one of eight diseases associated with the contaminated water.
Yet later news investigations revealed that the VA was denying many of the disability claims related to Camp Lejeune contaminants. According to the VA, the overall rate of approval for Camp Lejeune claims now averages 17 percent.
When the new act is signed into law, victims will finally be able to seek justice from the federal government for the harm they've suffered.
"The servicemembers who signed up to defend their country and the people who supported them at Camp Lejeune were let down by their government." said Rep. Matt Cartwright of Pennsylvania. "Having H.R. 6482, the Camp Lejeune Justice Act, included in the Honoring Our PACT Act is an important step forward to ensure military families, civil servants and contractors can receive the benefits and care they deserve."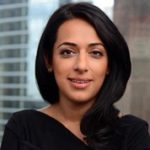 Exclusively focused on representing plaintiffs—especially in mass tort litigation—Roopal Luhana prides herself on providing unsurpassed professional legal services in pursuit of the specific goals of her clients and their families. While she handles complex cases nationwide on behalf of consumers, Ms. Luhana resides with her family in Brooklyn, New York.