The concern about power morcellators continues to grow. Morcellators are surgical tools that cut up large tissues for removal through small incisions. They have been used since the early 1990s in minimally invasive uterine fibroid and hysterectomy procedures. Recent studies, however, have indicated that the risk of spreading cancerous tissues may affect more women than doctors previously believed.
In April 2014, the FDA warned healthcare providers to think twice about using power morcellation for the removal of the uterus and uterine fibroids. Though it's rare for women to have cancerous tissues in and around the uterus, it is possible, and for these women, the risk that the morcellator will spread those cancerous tissues around the body is too great.
Healthcare Systems Stepping Back from Morcellation
In the face of an increasing number of cancer cases and subsequent lawsuits, insurance companies are taking a second look at power morcellation. Highmark Inc. announced on August 2, 2014, that they are stopping coverage for the procedure as of September 1, 2014. A spokesman stated that the decision is a result of the FDA's April 2014 warning, though the administration hasn't taken any additional steps yet to restrict the use of the devices. (The FDA convened an advisory panel in June, but hasn't followed up with any additional action yet.)
Highmark's decision follows in the footsteps of many hospitals that have also suspended use of morcellators. The University of Pittsburgh Medical Center (UPMC) was the most recent medical system to make the announcement. Highmark is likely the first insurance company to take action concerning morcellators—more may follow in the coming months.
Some doctors maintain that morcellation provides most women with a much faster recovery and minimal scarring. (The FDA estimates that about one in 350 women will have a cancer diagnosis after the procedure.) Studies are underway to find alternative methods that will allow for laparoscopic surgery without the risk of spreading cancer.
Women Devastated by Cancer Diagnosis
Dr. Amy Reed, an anesthesiologist at Beth Israel Hospital in Boston, went through surgery to remove troublesome uterine fibroids in 2013. She chose the minimally invasive laparoscopic procedure, preferring the faster recovery and smaller incisions. A few days after the surgery, however, she was told that she had uterine cancer, and that the morcellation may have spread that cancer around her abdomen, making her diagnosis worse.
Since then, Reed and her husband have led a campaign seeking a ban on power morcellation. As they spread news about her story, other women came forward who had suffered the same diagnosis. Many have now filed personal injury lawsuits against the manufacturers of the devices, claiming they failed to provide adequate warnings about the risks.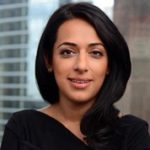 Exclusively focused on representing plaintiffs—especially in mass tort litigation—Roopal Luhana prides herself on providing unsurpassed professional legal services in pursuit of the specific goals of her clients and their families. While she handles complex cases nationwide on behalf of consumers, Ms. Luhana resides with her family in Brooklyn, New York.