A Minnesota couple recently filed a new Elmiron lawsuit against manufacturer Janssen Pharmaceuticals, Inc. and parent company Johnson & Johnson, among others. They claim that after using the interstitial cystitis drug, one of them suffered from eye injuries. They seek both compensatory and punitive damages.
Elmiron Must Be Taken in High Doses to Relieve IC
Interstitial cystitis pain. There is no cure for the condition, so when the U.S. Food and Drug Administration (FDA) approved Elmiron (pentosan polysulfate sodium or PPS) to treat the symptoms in 1996, it was hailed as a breakthrough drug for IC patients.
It's unknown exactly how Elmiron works, but it is believed to help restore the inner surface of the bladder. This protects the bladder wall from the substances in the urine that can irritate it. After a few months of taking the drug, many patients experience welcome relief. They must keep taking the drug, however, to continue to (IC) is a painful bladder condition that causes bladder pressure and pain, and sometimes pelvic
Elmiron has poor oral bioavailability and absorption, which means users must take higher doses of it to feel the effects. This can result in accumulation and ultimate toxicity over time, as the drug is absorbed not only by the epithelial cells of the bladder but by the epithelial cells in the retina—the thin layer of tissue that lines the back of the inside of the eye.
Defendants Knew That Elmiron Could Cause Adverse Vision Effects
In the Elmiron new drug application (NDA) file, the FDA noted that the drug works by "binding to the exposed epithelium," which may explain its effect on the bladder, but also points to its potential to negatively affect other epithelial cells. Unfortunately, the manufacturer failed to adequately test for such adverse effects. enjoy the benefits. That means that many patients are on it for years and sometimes decades.
The defendants relied on a physician's usage study of the drug conducted in the late 1980s and early 1990s when seeking approval from the FDA. That study pointed out potential adverse effects of the drug, including blurred vision and other eye problems.
As early as 1991, other research indicated that PPS inhibited regrowth and proliferation of retinal pigment epithelial cells, and could impair retinal health. Still, the FDA approved the drug in September 1996. Almost immediately after that, doctors and patients began reporting serious complications relating to eye and vision problems in patients taking it.
Studies Link Elmiron to Vision Damage
In 2018, researchers from the Emory Eye Center published their concerns about the presentation of a unique eye disease they were seeing in patients taking Elmiron. Nearly all of the patients showed subtle pigmented deposits (spots) on the retina. In September 2019, they published further research concluding that PPS maculopathy—what they called the disease associated with Elmiron—was a "vision-threatening condition that can manifest in the setting of long-term exposure to the drug."
Also in 2019, a team from Emory and the University of Pennsylvania published a study that concluded that PPS users had significantly increased odds of developing maculopathy. More research followed, but it wasn't until June of 2020 that Elmiron manufacturers finally included a warning about potential vision trouble on their product labels.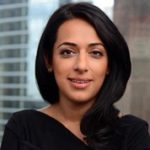 Exclusively focused on representing plaintiffs—especially in mass tort litigation—Roopal Luhana prides herself on providing unsurpassed professional legal services in pursuit of the specific goals of her clients and their families. While she handles complex cases nationwide on behalf of consumers, Ms. Luhana resides with her family in Brooklyn, New York.