On July 29, 2019, JUUL Labs filed a motion with the U.S. Judicial Panel on Multidistrict Litigation (JPML) to consolidate all federally filed JUUL e-cigarette lawsuits into one court.  The company noted at the time that with the increasing number of cases, consolidation was "both necessary and appropriate," and that it would reduce discovery burdens, avoid inconsistent rulings, and save judicial resources.
On October 2, 2019, the JPML ordered that a new JUUL MDL be established in the U.S. District Court for the Northern District of California under the guidance of Judge William H. Orrick III.
Judge Calls for a Census to Inform Future Attorneys' Appointments
In a Case Management Order dated October 25, 2019, Judge Orrick requested that the parties produce an initial census of filed JUUL cases "to assist [him] in determining who should be on the Plaintiffs' Executive Committee, Plaintiffs' Steering Committee, and other appointments, as well as how to manage the case form the outset."
The judge asked for the parties to complete the census before the next status conference, which was scheduled for November 8th, 2019.
The initial transfer order for the MDL included 10 cases, and dozens more have been filed since then, so the litigation is growing quickly.  It is expected that thousands of JUUL lawsuits will eventually be centralized in the MDL.
All of the cases involve allegations that e-cigarette manufacturer JUUL failed to warn the public about the dangers associated with its products, and purposely marketed its products toward young people and teenagers.
E-cigarette Advertising Targeted to Youths Results in Increased Sales
The use of e-cigarettes like JUUL has been steadily increasing among U.S. middle and high school students.  The Centers for Disease Control and Prevention (CDC) states that e-cigarettes are now the most commonly used tobacco product among these students, with nearly one in 20 middle school students and one in five high school students reporting in 2018 that they used e-cigarettes.
In its 2016  Morbidity and Mortality Weekly Report (MMWR), the CDC estimated that four in five (20.5 million) U.S youths, including 8.9 middle school and 11.5 million high school students, were exposed to e-cigarette advertisements from at least one source—an increase of 13 percent over 2014.
Exposure in retail stores increased 24 percent between 2014 and 2016, and "was the primary factor responsible for the increases in exposure from any source during 2014-2016," the CDC states.  Other statistics include:
Nearly 7 in 10 youths (17.7 million) were exposed to e-cigarette advertising in retail stores in 2016.
About 2 in 5 were exposed to similar advertisements on the Internet or television.
Nearly 1 in 4 were exposed in newspapers and magazines.
Current users of e-cigarettes and other tobacco products reported a higher prevalence of exposure to e-cigarette advertising than nonusers.
Meanwhile, the U.S. Surgeon General has described the rising use of e-cigarettes among youth as an "epidemic," and has concluded that e-cigarette marketing tactics employ strategies similar to conventional cigarette advertising tactics that were proven to appeal to youths.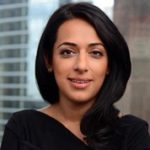 Exclusively focused on representing plaintiffs—especially in mass tort litigation—Roopal Luhana prides herself on providing unsurpassed professional legal services in pursuit of the specific goals of her clients and their families. While she handles complex cases nationwide on behalf of consumers, Ms. Luhana resides with her family in Brooklyn, New York.