On April 8, 2022, the U.S. Judicial Panel on Multidistrict Litigation (JPML) consolidated all federally filed NEC baby formula lawsuits into the Northern District of Illinois for pre-trial proceedings. U.S. District Judge Rebecca R. Pallmeyer was selected to oversee the proceedings.
In a September 7, 2022 case management order, Judge Pallmeyer outlined the protocol for the selection of cases to be prepared for early trial. These "bellwhether" trials are meant to help the parties gauge how juries may respond to the evidence. Depending on the outcomes, they may encourage future settlement negotiations.
Premature Infants Vulnerable to NEC
More than 100 plaintiffs so far are involved in the litigation. They hope to hold baby formula manufacturers Abbott Nutrition and Mead Johnson liable for marketing cow's milk baby formula for premature infants without disclosing the serious risks associated with their use in this vulnerable population.
Necrotizing enterocolitis (NEC) is a bacterial disease that damages a baby's intestines. It can create cracks or gaps that allow bad bacteria into the abdomen, worsening the infection and sometimes, leading to death. Premature and very low birth weight infants are particularly vulnerable to the disease.
Several studies have suggested that premature infants fed cow's-milk-based formula are more likely to develop NEC than those who are breastfed. In a 2019 Cochrane review, for instance, researchers found that feeding premature infants with formula increased rates of growth during the hospital stay, but was "associated with a higher risk of developing the severe gut disorder called 'necrotizing enterocolitis.'"
Several other studies have found similar results, yet despite being aware of this research, infant formula manufacturers continue to market their cow's milk formulas to doctors, hospitals, and patients for premature infants.
Judge Outlines Process for Choosing Initial Bellwether Cases for Trial
According to the recent case management order, cases filed on or before September 16, 2022, will be eligible to be selected as potential bellwether discovery cases. By September 30, 2022, the plaintiffs shall provide to the defendants their selections of four initial cases from among those eligible. At least one among those but no more than three shall include Mead Johnson (makers of Enfamil) as a defendant.
By the same date, the parties shall employ a computer-generated application to randomly select another four cases. Three will be selected from a list of cases in which Abbott is the sole defendant, and one from a list of cases in which Mead Johnson is a defendant, either together with Abbott or as the sole defendant.
Then on or before November 23, 2022, the defendants will provide the plaintiffs with their selections of four bellwether discovery cases. They must ensure that, when combined with the other discovery cases, at least one but no more than five of the 12 cases include Mead Johnson as a defendant.
Within 14 days after fact discovery has been completed for these 12 cases, the plaintiffs and the defendants shall each identify two cases for a total of four initial bellwether trial cases. The court will determine which of the four will be tried first. Then each of the four will be set for trial every 12 weeks thereafter, alternating between cases selected by the plaintiffs and defendants.
The judge has not yet revealed when the first NEC infant trial may take place.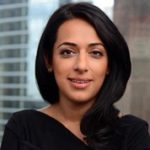 Exclusively focused on representing plaintiffs—especially in mass tort litigation—Roopal Luhana prides herself on providing unsurpassed professional legal services in pursuit of the specific goals of her clients and their families. While she handles complex cases nationwide on behalf of consumers, Ms. Luhana resides with her family in Brooklyn, New York.