A new study published in the JAMA Network Open reports that gestational age can greatly affect outcomes related to necrotizing enterocolitis (NEC), a dangerous gastrointestinal infection. Other research has connected the use of cow's milk formula in premature infants with a greater risk of NEC.
Researchers Seek to Learn More About Why Premature Infants Die
In the study, researchers examined data from 941 infants who were born prematurely between December 13, 2013, and September 26, 2016. Their gestational ages ranged from 24 0/7 to 27 6/7 weeks.
The researchers wanted to examine the risk factors, causes, timing, and circumstances of death in these preterm infants. They acknowledged that survival rates for extremely preterm infants have increased over the past quarter of a century, shifting from 62 to 68 percent in the late 1900s and early 2000s to 75 to 90 percent now.
Still, the cause and timing of death among these infants remains "poorly described," according to the scientists, so they sought to find out more.
Study Shows Leading Causes of Death in Premature Infants
The results of the study showed that the primary causes of death in this group of premature infants included:
Respiratory distress or failure
Necrotizing enterocolitis (NEC)
Pulmonary hemorrhage
Catastrophic intracranial hemorrhage
Sepsis
Sudden unexplained death
Fifty percent of the deaths occurred within the first 10 days after birth.
Scientists found an association between mortality and gestational age at birth—the older the baby when born, the more likely they were to survive. In addition, for each week that an infant survived—no matter what their age at birth—their risk of subsequent death more closely approximated the risk observed in infants born one to two weeks later.
NEC Associated with Gestational Age in Premature Infants
Examining the results of the study reveals some interesting information about NEC. Of the 65 infants who developed the infection, 28 (48 percent) died. The combination of NEC and respiratory causes of death accounted for 85 percent of deaths at 24 weeks, 66 percent at 25 weeks, 65 percent at 26 weeks, and 71 percent at 27 weeks.
The results also showed how NEC alone affected the infants depending on their age. It was found to be the proximal cause of death for:
30 percent of infants born at 24 weeks gestation
22 percent of infants born at 25 weeks gestation
25 percent of infants born at 26 weeks gestation
14 percent of infants born at 24 weeks gestation
This supports the theory that NEC attacks partly because of a premature infant's immature and developing digestive system, which is less capable of fighting off damaging microbes. The more mature the infant, the better able the intestinal system to protect itself.
Studies Show a Link Between Cow's Milk Formula and Risk of NEC
Studies have shown an increased risk of NEC among premature infants fed cow's milk formulas like Similac and Enfamil. Doctors often use these formulas to help supplement a premature infant's diet and help promote continued growth outside of the womb.
But research shows that infants receiving breastmilk are less likely to develop NEC, probably because breastmilk is more protective of a premature baby's intestinal system.
In a recent review of the scientific literature, scientists noted that human milk has been acknowledged as the best source of nutrition for preterm infants and those at risk for NEC. Cow's milk formula, on the other hand, significantly increases the risk of NEC.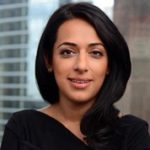 Exclusively focused on representing plaintiffs—especially in mass tort litigation—Roopal Luhana prides herself on providing unsurpassed professional legal services in pursuit of the specific goals of her clients and their families. While she handles complex cases nationwide on behalf of consumers, Ms. Luhana resides with her family in Brooklyn, New York.