The American Cancer Society estimates that every year, about 9,310 new cases of testicular cancer are diagnosed, and about 400 men die from the disease. They add that the rate of testicular cancer diagnoses has been increasing in the U.S. and many other countries for decades, but experts don't know why.
If caught early, testicular cancer can usually be treated successfully. Unfortunately, sometimes doctors fail to make a correct diagnosis until it's too late. That's what happened to Sean Kimerling, a 1988 Magna Cum Laude graduate of Georgetown University, and two-time Emmy award-winning anchor of WPIX 11 sports.
In his mid-thirties, Sean was on top of the world until he felt something in his testicle and talked to his doctor about it. His doctor said it was nothing. He went back a while later complaining of back pain and was prescribed medication for a kidney infection. The pain got worse, and he went back to the doctor several times.
It wasn't until a year and a half later, in August 2003, that he was finally diagnosed with stage 4 testicular cancer. By then, the cancer had spread to the rest of his body. He passed away a month later in September 2003.
"Sean initially planned to start a foundation when he recovered," said Chaffin Luhana Assistant Office Manager Rosemary Shameer.
"After he died, his parents created this foundation in his honor, so that no other son, brother, or father would die from this disease."
The charity's mission is to raise awareness of testicular cancer and promote early detection. In 2018, the foundation donated over 10,000 shower cards (with instructions for self-examination) to health facilities, high schools and universities throughout the country.
"I worked for this charity for almost 10 years," Shameer said, "and I have been able to advocate for them which brings such gratitude to my heart."
At Shameer's request, the Chaffin Luhana Foundation is donating $250 to the Sean Kimerling Testicular Cancer Foundation. If you'd like to contribute as well, you can make a donation via the information listed below:
Sean Kimerling Testicular Cancer Foundation
Contact: Natalie Shivdat
150 Broadway Suite 1105
New York, NY 10038
212-986-0892
Web: seankimerling.org
To Donate: https://www.seankimerling.org/donate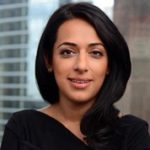 Exclusively focused on representing plaintiffs—especially in mass tort litigation—Roopal Luhana prides herself on providing unsurpassed professional legal services in pursuit of the specific goals of her clients and their families. While she handles complex cases nationwide on behalf of consumers, Ms. Luhana resides with her family in Brooklyn, New York.