According to the Centers for Disease Control and Prevention (CDC), suicide rates are rising across the United States. Since 1999, suicide rates have increased by more than 30 percent. In 2016, nearly 45,000 lives were lost to suicide.
In Pennsylvania alone, the suicide rate increased by more than a third (34 percent) between 1999 and 2016, and the state's suicide rate of 16.3 per 100,000 people was higher than the national average of 15.4 per 100,000 people.
The American Foundation for Suicide Prevention (AFSP) states that suicide is the 10th leading cause of death in the U.S. and that on average, there are 123 suicides a day. In 2016, the highest rate was among adults between the ages of 45 and 54.
As to why suicide rates are increasing, doctors and scientists are unsure. Though many victims suffer from mental health illnesses, the CDC states that more than half did not have a known mental health condition at the time of death. Other potential risk factors include economic hardships, relationship problems, life crises, and substance abuse.
The AFSP was established in 1987 and is a voluntary health organization dedicated to saving lives and bringing hope to those affected by suicide. Their activities include funding scientific research, educating the public about mental health and suicide prevention, advocating for public policies in mental health and suicide prevention, and supporting survivors of suicide loss.
"Anxiety, depression, and mental illness as a whole are topics that are often overlooked when discussing healthcare." says Chaffin Luhana Marketing Director Dan Reo,
"Raising awareness for suicide and making resources more known like the National Suicide Prevention Lifeline (1-800-273-TALK) can be a matter of life or death."
Along with the Lifeline, the AFSP also supports a network of local crisis centers that are key components to local/state behavioral healthcare. "These crisis centers provide a safety net for those at serious risk who usually have nowhere else to go," Reo said.
At Reo's request, the Chaffin Luhana Foundation is donating $250 to the AFSP this year to support their efforts to save lives. If you'd like to contribute as well, you can make a donation via the information listed below:
American Foundation for Suicide Prevention
120 Wall Street, 29th Floor
New York, NY 10005
888-333-AFSP
Web: https://afsp.org/
To Donate: https://afsp.donordrive.com/index.cfm?fuseaction=donate.general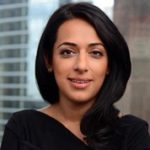 Exclusively focused on representing plaintiffs—especially in mass tort litigation—Roopal Luhana prides herself on providing unsurpassed professional legal services in pursuit of the specific goals of her clients and their families. While she handles complex cases nationwide on behalf of consumers, Ms. Luhana resides with her family in Brooklyn, New York.