There have been many incidences over the past year or so that have raised concerns about toxins in drinking water.
First, there was lead in the Flint, Michigan water supply. Then there was the perfluorooctanoic acid (PFOA) contamination in the northeast that started in Hoosick Falls, New York and spread to other nearby communities, including Petersburgh, New York and North Bennington, Vermont.
Now, a recent study published in the journal Environmental Science & Technology Letters shows that toxic chemicals were discovered at levels above the Environmental Protection Agency (EPA) suggested safety limit in 66 of the public water supplies examined, which affects six million people.
Researchers Find High Levels of PFOA in Drinking Water
For the study, researchers wanted to examine levels of poly- and perfluoroalkyl substances (PFASs) in drinking water supplies across the country. Specifically, researchers looked at concentrations of six types of PFASs, including PFOA, the chemical found in Hoosick Falls, New York, as well as a related chemical, PFOS.
As a result of scientific studies connecting PFOA with serious health conditions including high cholesterol, ulcerative colitis, thyroid disease, and certain types of cancer, the EPA recently lowered the recommended maximum amount of PFOA and PFOS to 70 parts per trillion (ppt).
Researchers examined data from water samples collected by the EPA from 2013 to 2015. They also examined locations such as industrial sites that manufacture or use these chemicals, military fire-training sites, airports where firefighting foam containing PFASs is used, and wastewater-treatment plants, since these locations can be responsible for contaminating groundwater.
Out of 4,864 water supplies in 33 states, researchers found that 194 had minimum reporting levels of PFASs. Three-quarters of those detections were found in 13 states, including Pennsylvania, Ohio, New York, New Jersey, and Massachusetts.
A total of 66 of the public water supplies, serving over 6 million people, had at least one sample that measured at or above the safety limit of 70 ppt (ng/L) for both PFOS and PFOA. In some locations, those levels ranged as high as 349 ng/L for PFOA and 1,800 ng/L for PFOA.
It's no surprise that the highest levels were reported near military bases, industrial sites, and wastewater treatment plants. Detection frequency in drinking water from groundwater was more than twice that from surface water.
Researchers noted that 44.5 million Americans rely on private drinking water wells, and 52 million on smaller public water supplies that are not tested as often, or at all, "meaning that information about drinking water PFAS exposures is therefore lacking for almost one-third of the U.S. population."
Government Doesn't Regulate PFASs
Despite the scientific evidence linking these chemicals with health issues, the federal government does not regulate them. The EPA recommends maximum levels, but there is no organization enforcing these levels. The EPA has been working with companies for the past several years to encourage them to stop using these chemicals and to choose safer alternatives instead.
PFASs accumulate in the body, increasing over time in blood and organs. They are also dangerous for the environment, as they are persistent, and resist degradation. The chemicals have been used for years in industrial applications, and are found in cleaners, textiles, paper and paints, leather, fire-fighting foams, and wire insulation.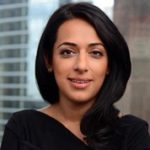 Exclusively focused on representing plaintiffs—especially in mass tort litigation—Roopal Luhana prides herself on providing unsurpassed professional legal services in pursuit of the specific goals of her clients and their families. While she handles complex cases nationwide on behalf of consumers, Ms. Luhana resides with her family in Brooklyn, New York.