The American Chemical Society (ACS), in its May 2016 issue of Chemical and Engineering News, reported on the growing concern about perfluorinated chemicals (PFCs) tainting our drinking water. After several towns in the Northeast, including Hoosick Falls, New York, reported higher-than-advised levels of perfluorooctanoic acid (PFOA) in the ground water and in wells, citizens were forced to turn to bottled water, driving an outcry for improved sanitation systems.
Scientific Panel Discovers Connection Between PFCs and Disease
Also called "C8," PFOA, in particular, was the source of contamination in the local water supply in Parkersburg, West Virginia, where the DuPont plant used the chemical for decades. In 2005, as part of a large settlement of a class-action lawsuit against DuPont, the "C8 Science Panel" was formed to examine the safety issues associated with the chemical.
The panel carried out a series of studies from which they concluded that PFOA was linked to conditions such as high cholesterol, ulcerative colitis, thyroid disease, testicular cancer, kidney cancer, and pregnancy-induced hypertension.
The Environmental Protection Agency (EPA) has been investigating these chemicals for a while, and began working with the industry about 10 years ago to phase out their production due to safety and environmental concerns. Perfluorooctane sulfonate (PFOS) was a key material in 3M's Scotchguard products, but the company no longer uses it. They still face a number of lawsuits filed by plaintiffs who claim to have been injured by contaminated water near 3M manufacturing plants.
EPA Suggests New Lower Level for Chemicals in Drinking Water
The government has never regulated levels of PFOA and PFOS in drinking water, but in 2009, the EPA did suggest that drinking water should contain no more than 400 parts per trillion (ppt) of PFOA, and 200 ppt of PFOS.
When Hoosick Falls reported PFOA contamination in their water, the EPA recommended to the mayor that the city seek to lower levels of the chemical to no more than 100 ppt. That change raised questions about the previous recommendation, and indeed, the EPA did recently update their suggested level to only 70 ppt for both chemicals.
Meanwhile, some Northeastern states, including Vermont and New Jersey, have set their own advisory levels for PFOA, at 20 ppt and 40 ppt, respectively. Both took into account the potential long-term effects of drinking contaminated water.
The Department of Defense is also investigating potential contamination in areas where they've used firefighting foams which contain PFCs that can degrade into PFOA or PFOS. They are expected to test at 600 training sites, and are seeking alternative firefighting foams that do not contain these chemicals.
3M, DuPonts, and six other chemical manufacturers agreed to eliminate PFOA and other fluorinated compounds from their products and facility emissions by 2015. Most companies are switching to other chemical alternatives that are known to be less bioaccumulative, though their health effects are still uncertain. There is still concern that the remaining chemicals being used may degrade into PFOS and PFOA in the environment.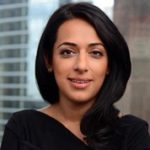 Exclusively focused on representing plaintiffs—especially in mass tort litigation—Roopal Luhana prides herself on providing unsurpassed professional legal services in pursuit of the specific goals of her clients and their families. While she handles complex cases nationwide on behalf of consumers, Ms. Luhana resides with her family in Brooklyn, New York.