The Environmental Protection Agency (EPA) has been hinting at changes in its recommended exposure to toxic chemicals like perfluorooctanoic acid (PFOA) and other Polyfluoroalkyl chemicals (PFCs)— a family of chemicals that have been used since the 1950s in various commercial applications.
Meanwhile, a number of water supplies have been found to be contaminated with PFOA and other similar chemicals over the past year, with residents having to turn to bottled water while waiting for solutions.
Enough is enough, says the Environmental Working Group (EWG), a non-profit organization committed to protecting human health and the environment. In a recent article, they encouraged the EPA to take action now, to "protect Americans from this threat."
EPA Has Known about PFOA Contamination Since 2001
The EWG wrote a letter to EPA Administrator Gina McCarthy on April 25, 2016. In it, they noted that PFOA water contamination first came to the agency's attention fifteen years ago, when it was reported in the public water systems near DuPont's Washington Works plant in Parkersburg, West Virginia. The findings prompted a class-action lawsuit, the settlement of which is funding the filtration of six public water systems to make the water safe again.
Now, contamination has been detected in a number of New England towns, including Hoosick Falls, New York; Petersburgh, New York; North Bennington, Vermont; and others. Back in 2009, the EPA advised that levels of PFOA should not go above 400 parts per trillion (ppt), and in an advisory to Hoosick Falls citizens, they lowered that to 100 ppt. They didn't advise other communities to keep levels that low, however.
Meanwhile, testing has found PFOA in more than 100 public water systems at average levels five or more times that believed to be safe.
EWG Compels the EPA to Set a Uniform Standard for PFOA in Drinking Water
A series of studies begun as part of the DuPont settlement found that exposure to PFOA (also called "C8") was linked to an increased risk of diagnosed high cholesterol, ulcerative colitis, thyroid disease, testicular cancer, kidney cancer and pregnancy-induced hypertension.
Studies have also found that the chemical is prevalent in the U.S. population, and accumulates in the environment. A 2012 study confirmed that PFOA is present in surface waters, accumulates in top predators and is increasingly analyzed in drinking water.
The EWG states that it has been investigating these issues since 2002, and that it "remains deeply troubled by the agency's glacial pace and uneven approach to protecting the public from this highly persistent, bioaccumulative and toxic chemical." They add that it "escapes all logic" as to why the EPA would issue conflicting recommendations for PFOA levels.
They recommend that the EPA, at a minimum, issue a uniform health advisory level for PFOA, establish an enforceable drinking water standard for PFOA (currently the EPA does not regulate it), and enhance and expand sample testing of community water systems to determine who else may be at risk.
The EPA did recently update their suggested level of PFOA and PFOS to only 70 ppt.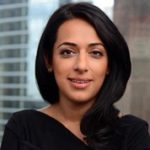 Exclusively focused on representing plaintiffs—especially in mass tort litigation—Roopal Luhana prides herself on providing unsurpassed professional legal services in pursuit of the specific goals of her clients and their families. While she handles complex cases nationwide on behalf of consumers, Ms. Luhana resides with her family in Brooklyn, New York.