At the end of August 2016, New York State Health Commissioner Howard Zucker stated in a letter that New York followed federal guidelines when it came to dealing with contamination of Hoosick Falls' water with toxic perfluorooctanoic acid (PFOA). The problem, he continued, was that the Environmental Protection Agency (EPA) gave confusing and inconsistent guidance.
The EPA fired back in response stating that instead of writing accusatory letters, the state should work with the EPA to clean up the contamination and protect the public drinking water supply.
Hoosick Falls Hit with PFOA Contamination
In June 2015, samples collected from the public water supply in Hoosick Falls, New York, were found to contain more than 600 ppt (parts per trillion) of PFOA. At the time, the EPA recommended an upper limit of no more than 400 ppt.
On November 25, 2015, EPA Regional Administrator Judith A. Enck sent a letter to Mayor Borge of Hoosick Falls, New York, stating that PFOA water contamination had been discovered in the groundwater and drinking water at higher-than-advised levels. She recommended that bottled water be provided to residents and that the water not be used for cooking, until PFOA concentrations could be reduced.
It wasn't until January 2016 that Governor Cuomo announced a state of emergency and began a series of actions to address the contamination. Since then, critics have complained that the state took way too long to take action on this public safety concern.
Residents Blame Governor Cuomo For Delaying Action
New York officials were criticized as downplaying the dangers of the contaminated water, but at the same time, the EPA was criticized for taking so long to issue a new upper limit recommendation on PFOA.
Studies conducted beginning in 2006 concluded that PFOA (also called C8) exposure was linked to high cholesterol, ulcerative colitis, thyroid disease, testicular cancer, kidney cancer and pregnancy-induced hypertension. The EPA was aware of these and other studies indicating serious safety concerns with the chemical, but they waited until this year to issue a new recommended upper limit of 70 ppt.
The EPA says it started telling state health officials in October 2015 that Hoosick Falls residents should not be drinking or cooking with their tap water, but that those officials refused to do so. Hoosick Falls residents, meanwhile, have blamed Democratic Governor Andrew Cuomo's administration for taking too long to call attention to the issue and mobilize government departments to address it.
State Wants EPA to Help Pay for Cleanup
The Department of Environmental Conservation sent a letter to the EPA asking them to reimburse New York for costs incurred during the Hoosick Falls cleanup that are not ultimately paid by the parties believed to be responsible—St. Gobain Performance Plastics and its plant's predecessor, Honeywell International.
They say that the EPA gave conflicting guidance on how much PFOA was safe in the water, having set the upper limit at 400 ppt in 2009, around which the state believed there was a margin of safety. The EPA then set a long-term upper limit of 70 ppt in May 2016, and in between those two times, advised New York to set a target of no more that 100 ppt in their cleanup efforts.
The EPA stated that the polluters—in this case, believed to be the plastics plant owners—should be responsible for the cost of cleanup, not the EPA, or more specifically, the U.S. taxpayers.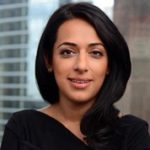 Exclusively focused on representing plaintiffs—especially in mass tort litigation—Roopal Luhana prides herself on providing unsurpassed professional legal services in pursuit of the specific goals of her clients and their families. While she handles complex cases nationwide on behalf of consumers, Ms. Luhana resides with her family in Brooklyn, New York.