In November 2015, the Environmental Protection Agency (EPA) sent a letter to the Mayor of Hoosick Falls, New York, warning that they had found the groundwater and drinking water to be contaminated with perfluorooctanoic acid (PFOA), a toxic chemical used to make Teflon and other stain- and water-resistant products.
Where did the chemical come from? Residents suspected the nearby Saint-Gobain Performance Plastics plant to be the source. Now, according to a report by ABC News, the New York State Department of Environmental Conservation (DEC) has announced that they agree with that assessment. They hold Saint Gobain and former plant owner Honeywell International responsible for the water contamination in Hoosick Falls.
DEC Requires St. Gobain to Be Responsible for Clean-Up Costs
As a result of their conclusions, the state will require the companies to take a number of steps to clean up the contamination and take care of the costs. Saint Gobain and Honeywell are to:
Investigate where the PFOA came from and determine the full scope of contamination at not only the Hoosick Falls location, but an additional at four Honeywell and two St. Gobain plants.
Look into an alternate water supply.
Fund the installation and maintenance of new filtration systems for the municipal water supply.
Reimburse the state for costs incurred related to the contamination.
Pay for bottled water for residents until a full capacity filtration has been successfully installed.
DEC Acting Commissioner Basil Seggos stated that the state intended to hold all parties accountable for the costs, and to send "a strong message" to other industries operating in New York.
"We will continue to ensure all communities across the state have access to clean, drinkable water," he said.
DEC Finds PFOA in Wells at Municipal Landfill
Just as it seemed things here are getting straightened out for Hoosick Falls, the DEC recently reported in July 2016 that one water sample at monitoring wells at the former Hoosick Falls Municipal landfill came back at 21,000 parts per trillion (ppt) of PFOA—300 times the EPA advisory level (newly established to be 70 ppt).
The DEC stated however, it did not feel that contamination was impacting municipal drinking water or private wells. They continue to believe that the main source of contamination is the St. Gobain plant. Meanwhile, they are sampling a number of sites, including the Hoosic River and other locations including illegal dumping sites, farms, and other industrial sites. They pledged to focus their investigation to determine how the contamination seen at the landfill monitoring wells is impacting the surrounding area, and to "identify those responsible for this contamination."
Other companies, for example, may have disposed of industrial wastes in that same landfill years ago.
EPA Working with Companies to Eliminate PFOA from Products
In a series of scientific studies, PFOA has been found to be connected to a number of health problems, including high cholesterol, ulcerative colitis, thyroid disease, and testicular and kidney cancer. The EPA is working with companies to eliminate the chemical from products completely.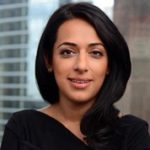 Exclusively focused on representing plaintiffs—especially in mass tort litigation—Roopal Luhana prides herself on providing unsurpassed professional legal services in pursuit of the specific goals of her clients and their families. While she handles complex cases nationwide on behalf of consumers, Ms. Luhana resides with her family in Brooklyn, New York.