There are more than 700 Roundup Lawsuits pending in the Northern District of California, where all federally-filed cases were consolidated back in October 2016. The plaintiffs involved in the litigation claim that after using Roundup for an extended period of time, they developed non-Hodgkin's lymphoma (NHL) or a similar type of cancer.
The parties have been working through discovery in the early pre-trial proceedings. But, on October 6, 2017, manufacturer Monsanto filed a motion asking District Judge Vince Chhabria to grant summary judgment on the cases, because of the plaintiffs' alleged "failure" to prove that Roundup causes cancer. Monsanto will argue this motion on December 11, 2017.
Monsanto Says Plaintiffs Have it Wrong
In the motion, Monsanto asks the judge to exclude plaintiff's general causation expert witnesses and grant summary judgment for all Roundup lawsuits currently pending before the Northern District of California.
Defendant asserts that instead of presenting reliable evidence that glyphosate—the main herbicide in Roundup—causes cancer, plaintiffs present "speculation and self-selected bits of data, offer subjective opinions, and selectively parrot third-party 'conclusions' in a transparent effort to side-step their obligations to demonstrate reliable methodologies of their own."
The plaintiffs have proffered six experts, including specialists in the fields of epidemiology, toxicology, and pathology, which they say will show that glyphosate does cause NHL in humans.
Monsanto argues that regulatory agencies worldwide, including the Environmental Protection Agency (EPA) and similar agencies in Canada, Australia, New Zealand, Korea, Japan, and the European Union, have stated that glyphosate is not likely to pose a risk of cancer in humans. Defendant argues that the plaintiffs endorse "the sole outlying assessment reported by a working group of the self-governing International Agency for Research on Cancer (IARC)," which reported in 2015 that glyphosate was probably carcinogenic to humans.
The company adds that the plaintiffs' approach to proving their assertions fails because they have applied a threshold of proof that is "lower than that appropriate in tort law."
The Glyphosate Issue Must Be Resolved First
Judge Chhabria previously bifurcated the California proceedings, ordering that the issue of medical causation, i.e., whether there is a link between glyphosate and cancer to be addressed first, before proceeding with any other issues. Thus, Monsanto hopes to show that the plaintiffs can't prove their claims.
The plaintiffs, on the other hand, are prepared to show that while the IARC reviewed glyphosate "in the manner in which it is used in the real world"—that is, in combination with the other ingredients in Roundup, including a surfactant that may increase the herbicide's penetration and toxicity—the EPA did not, and analyzed glyphosate only in isolation, and only on non-human animals.
Plaintiffs assert in an October 27, 2017, case management statement that "[t]he EPA assessment," is therefore of limited relevance to Plaintiffs who were exposed to Roundup as a product, which in fact contains other carcinogens in addition to glyphosate."
Plaintiffs further refer to the "Monsanto Papers", which were previously disclosed in litigation, and show that the company and the agency communicated back and forth regarding glyphosate. The documents also suggest that Monsanto may have unduly influenced the EPA in their reporting of glyphosate's risks. The plaintiffs state that the EPA's Office of Pesticides Program (OPP) conducted no research of its own and that its draft assessments of glyphosate "relies more heavily on unpublished data submitted by Monsanto than it does publications subjected to a rigorous peer-review process."
A hearing on Monsanto's Summary Judgment Motion is scheduled for December 11, 2017, after which Judge Chhabria should decide the motion.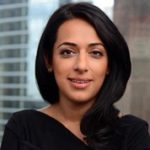 Exclusively focused on representing plaintiffs—especially in mass tort litigation—Roopal Luhana prides herself on providing unsurpassed professional legal services in pursuit of the specific goals of her clients and their families. While she handles complex cases nationwide on behalf of consumers, Ms. Luhana resides with her family in Brooklyn, New York.