Baby powder manufacturer Johnson & Johnson (J&J) is currently defending nearly 12,000 lawsuits filed by plaintiffs claiming that its talc products caused their cancers. In the course of the litigation process, the company has had to produce thousands of pages of internal company documents.
According to Reuters, some of those documents suggest that J&J was aware not only of its baby powder containing talc, but it also knew that some of the raw talc and finished powders also contained asbestos. As early as 1971, internal company tests reported the presence of asbestos.
Johnson & Johnson Fails to Share Results of Tests Showing Asbestos Contamination
According to the American Cancer Society (ACS), talcum powder (found in baby powder) is made of talc, which is a mineral in clay mined from underground deposits. It is the softest mineral known to man, made up of elements like magnesium, silicon, and oxygen. It absorbs moisture well and cuts down on friction, which has made it popular in cosmetic products designed to help keep skin dry and to prevent rashes.
In its natural form, talc can contain asbestos, as the two are often found near one another in the earth. Talc can easily become contaminated with asbestos, a known carcinogen while being mined.
In 1976, the Cosmetic, Toiletry, and Fragrances Association (CTFA) issued voluntary guidelines urging manufacturers to be sure that talc used in cosmetic products is free from detectable amounts of asbestos. But, J&J documents show that during tests from 1971 to the early 2000s, raw talc and finished powders sometimes tested positive for small amounts of asbestos. The documents also indicate that the company's executives struggled to figure out how to address the issue, but did not disclose the test results to regulators.
Does Talcum Powder Cause Cancer?
When looking at whether talcum powder could cause cancer, the ACS states that it is important to distinguish between talc containing asbestos and talc that is asbestos-free. Talc contaminated with asbestos is "accepted as being able to cause cancer if it is inhaled," they say. Whether asbestos-free talc causes cancer is still uncertain, as studies have shown mixed results.
Many women who have filed lawsuits against J&J claim that talcum powder applied to the genital area or on sanitary napkins can cause ovarian cancer-based in part on some studies that have shown a link between the two. Research in talc and talc miners has also found an increased risk of lung cancer, and asbestos on its own is also a known risk factor for pleural mesothelioma, a cancer of the lungs.
The International Agency for Research on Cancer (IARC) classifies talc that contains asbestos as "carcinogenic to humans," and asbestos-free talc as "not classifiable as to carcinogenicity in humans" because of lack of human data.
Plaintiffs Winning Some Talc Lawsuits Against J&J
J&J has already lost two talcum-powder-related lawsuits in 2018, with juries in New Jersey and California awarding large amounts to the plaintiffs, who claimed asbestos-tainted talc products caused their mesothelioma. In a third lawsuit in St. Louis, 22 plaintiffs were awarded $4.69 billion in damages after they claimed that asbestos-tainted baby powder and shower talc caused ovarian cancer. Three other lawsuits have resulted in defense verdicts.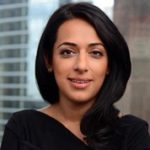 Exclusively focused on representing plaintiffs—especially in mass tort litigation—Roopal Luhana prides herself on providing unsurpassed professional legal services in pursuit of the specific goals of her clients and their families. While she handles complex cases nationwide on behalf of consumers, Ms. Luhana resides with her family in Brooklyn, New York.