An Illinois woman recently filed a new Roundup lawsuit on behalf of her deceased sister in the U.S. District Court for the Eastern District of Missouri. She alleges that her sister died after years of exposure to Roundup and its active herbicide, glyphosate.
All federally-filed Roundup lawsuits were recently consolidated in the U.S. District Court for the Northern District of California. This new Roundup case should be transferred there for pre-trial proceedings. The plaintiff seeks $10 million in damages.
Plaintiff Develops NHL Allegedly Because of Roundup Exposure
According to the complaint, the decedent used Roundup for years on a regular basis starting in 1996.  She followed all safety and precautionary warnings during the course of her use. She was then diagnosed with non-Hodgkin's lymphoma (NHL), which the plaintiff asserts was proximately caused by exposure to Defendant's Roundup products and passed away from the cancer. The decedent's sister asserts that the defective nature of Roundup caused her sister to suffer bodily illness resulting in significant pain and suffering, disability, disfigurement, and shortened life expectancy.
She brings the Roundup lawsuit on behalf of her sister's estate and all of her heirs.  And seeks both compensatory and punitive damages. And alleges that the decedent suffered "a disintegration and deterioration of the family unit and the relationships existing therein, resulting in enhanced anguish, depression and other symptoms of psychological stress and disorder" as a direct result of the defendant Monsanto's conduct.
IARC Names Glyphosate a "Probable Carcinogen"
The plaintiff claims that Roundup manufacturer Monsanto's conduct displayed a complete disregard for the safety of her sister and the general public. As evidence of Monsanto's continuing disregard for public safety, she cites statements made on the company's website, which claim that the "[re]gulatory authorities and independent experts around the world … agree that there is no evidence that glyphosate, the active herbicide in Roundup, causes cancer, even at very high doses", yet the ingredient has long been associated with serious side effects.
In March 2015, for instance, after an extensive review of the evidence, the International Agency for Research on Cancer (IARC) concluded that glyphosate was a Class 2A "probable carcinogen". And in July 2015, IRAC published a full monograph on its evaluation and findings.
The IARC Working Group also found a link between glyphosate exposure and NHL, as well as several subtypes of NHL.  It also noted that the pesticide caused DNA and chromosomal damage to human cells.
Monsanto Manipulated "Independent" Report Findings
Despite the IARC's findings, Monsanto maintains that there is no evidence of Roundup's toxicity. This, despite several studies indicating a connection. Indeed, there is evidence that the company manipulated research to try to challenge of evidence of glyphosate's genotoxicity.
According to a 2017 NPR report, internal company emails revealed that Monsanto engaged outside scientists to co-author reports defending the glyphosate's purported safety, even proposing that their own executives ghostwrite scientific papers on glyphosate to be published under the names of allegedly independent scientists.
Internal company emails also revealed possible collusion between Monsanto and the Environmental Protection Agency (EPA) to slow and eventually stop the release of a glyphosate study conducted by the Centers for Disease Control and Prevention (CDC). The EPA concluded in 2016 that glyphosate is unlikely to cause cancer, which critics have said overwhelming relied on unpublished industry studies.
"Notwithstanding Defendant's representations," the plaintiff states in her complaint, "scientific evidence has established a clear association between glyphosate and genotoxicity, inflammation, and an increased risk of many cancers, including, but not limited to, NHL, Multiple Myeloma, and soft tissue sarcoma."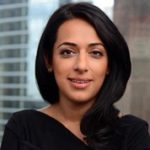 Exclusively focused on representing plaintiffs—especially in mass tort litigation—Roopal Luhana prides herself on providing unsurpassed professional legal services in pursuit of the specific goals of her clients and their families. While she handles complex cases nationwide on behalf of consumers, Ms. Luhana resides with her family in Brooklyn, New York.