On August 30, 2016, a New York State committee held a daylong hearing on the water contamination that has plagued Hoosick Falls and nearby communities for years. Residents expressed their frustration with state officials' slow response to the crisis, while lawmakers criticized the state's health department for failing to provide clear leadership on the risks associated with the chemical contaminant.
Meanwhile, state officials have accused the Environmental Protection Agency (EPA) of failing to properly respond to the issue, and demanded that it help cover the costs of clean up. The EPA fired back that it was the first to warn residents of the contamination, and to advise them not to drink or cook with the water.
Saint-Gobain Plastics Plant—believed to be the source of the contamination—has paid for a new temporary water filtration system to help clean up the drinking water.
Concerned Resident Makes Connection Between Chemical and Cancer
It all started when resident Michael Hickey, an insurance underwriter, decided to do some research on his father's kidney cancer. His father lived what Hickey described as a "clean life," avoiding alcohol and cigarettes, but was diagnosed with an aggressive form of the cancer at the age of 68. Hickey noticed other individuals in the community also succumbing to cancer, and started to research the area's cancer rates.
Believing these rates to be unusually high, he turned his focus on area industry and potential chemical contamination. He found that Saint Gobain's plastic plant—where his father worked for decades—was less than 400 yards from the nearest underground well that feeds the Hoosick Falls water treatment plant.
It wasn't long before he realized that St. Gobain used perfluorooctanoic acid (PFOA), a toxic chemical used for decades to make Teflon and other stain and water resistant products, including fire-fighting foams, ski-wax, Gore-Tex jackets, coating additives and cleaning products. The chemical was linked to health effects around the DuPont plant in Ohio and West Virginia. Hickey wondered if the same chemical could be to blame for cancer incidents in his community.
Tests Show Drinking Water High in PFOA
Hickey contacted the water plant asking about testing for PFOA, but was met with resistance from the mayor of the village. In 2014, Hickey paid for testing kits and collected water samples from his own kitchen sink, as well as from McDonald's restaurant and a Dollar Store. Lab results showed that the level of PFOA in Hickey's home was 540 ppt—above the EPA's recommended upper limit of 400 ppt at that time. (That level has recently been lowered to 70 ppt.)
Together with other citizens, Hickey raised awareness about the issue. The village and Saint Gobain finally conducted their own tests, and found similar high levels of PFOA. The company found levels as high as 18,000 ppt in the groundwater under its McCaffrey Street plant. Yet it would be many months before state and other agencies took the issue seriously, and it wasn't until 2016 that governor Cuomo declared a state of emergency for the area.
In a series of scientific studies, PFOA was linked with a number of health concerns, including ulcerative colitis, thyroid disease and testicular and kidney cancer. Hickey later filed a lawsuit against Saint-Gobain and Honeywell International, which operated the plant before Saint-Gobain took it over. The lawsuit is one of many filed this year seeking class-action status on behalf of Hoosick-Falls residents.
Hoosick Falls a Potential Federal Superfund Site
After the issue of PFOA contamination came to the public's attention in Hoosick Falls, subsequent water tests found contamination in other nearby communities, including those in New York and across the border in Vermont. Blood testing of Hoosick Falls residents have shown levels nearly 15 times the national median for those 12 and older.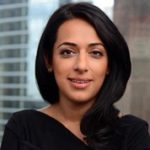 Exclusively focused on representing plaintiffs—especially in mass tort litigation—Roopal Luhana prides herself on providing unsurpassed professional legal services in pursuit of the specific goals of her clients and their families. While she handles complex cases nationwide on behalf of consumers, Ms. Luhana resides with her family in Brooklyn, New York.