The U.S. Department of Health and Human Services together with the Agency for Toxic Substances and Disease Registry (ATSDR) recently released a new toxicological profile on "perfluoroalkyls"—potentially toxic chemicals like PFOA and PFOS. Both of these have contaminated the groundwater in Hoosick Falls, New York and nearby areas like Petersburgh.
The purpose of the report—which was developed in accordance to guidelines developed by the ATSDR and the Environmental Protection Agency (EPA)—is to update and revise as needed the adverse health effects information for these chemicals.
Report Indicates PFOA Persistent in the Environment
Perfluoroalkyl compounds have been used extensively in firefighting foams and to create non-stick surface coatings and protectants for paper and cardboard packaging products, carpets, leather products, and textiles. Some, such as PFOA, have also been used as processing aids in the manufacture of nonstick coatings on cookware.
These are all man-made substances that don't naturally occur in the environment. PFOS and PFOA, in particular, have been detected in air, water, and soil in and around manufacturing facilities that use these chemicals. Companies have been phasing out production since 2000, but as the chemicals can remain in the environment for long periods of time, they are still pervasive in many areas.
The report notes that contaminated drinking water can lead to high levels of exposure to PFOA, PFOS, and other perfluoralkyls for populations living near manufacturing facilities. That's what happened in several communities in Ohio and West Virginia, as well as in New York. Over 45,000 people who were exposed to the chemicals in southeastern Ohio and West Virginia had PFOA blood levels six times higher than the median concentration in the general population.
In early 2018, Ohio Attorney General Mike DeWine filed a lawsuit against DuPont and Chemours, seeking reimbursement for costs in investigating and cleaning up PFOA contamination in the Ohio River. DuPont used the chemical between 1950 and 2013 to produce Teflon at its Washington Works Plant on the Ohio River.
PFOA Linked to Serious Health Effects
Members of both the Hoosick Falls and Petersburgh communities in NY were exposed to PFOA through tainted public waters supplies as well. Petersburgh residents blame the contamination on the nearby Taconic Plastics plant, while those in Hoosick Falls found that the contamination came from two Saint-Gobain Performance Plastics factories and an old Honeywell plant, all of which used PFOA for decades before it was phased out.
The new report on these chemicals states that perfluoroalkyls have been detected "in all environmental media including air, surface water, groundwater (including drinking water), soil, and food," noting that contaminated water led to high levels of exposure. As to their health effects, the report cites studies suggesting an association between high levels of exposure and pre-eclampsia, high blood cholesterol, liver damage, small birth weight, decreased response to vaccines, and increased risk of thyroid disease and asthma. There is also evidence that PFOA is carcinogenic to humans.
The New York Supreme Court recently granted plaintiffs' motion seeking class certification in their lawsuit against Taconic Plastics Limited. The plaintiffs allege that the company contaminated the groundwater and soil with PFOA, putting the residents at risk.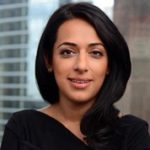 Exclusively focused on representing plaintiffs—especially in mass tort litigation—Roopal Luhana prides herself on providing unsurpassed professional legal services in pursuit of the specific goals of her clients and their families. While she handles complex cases nationwide on behalf of consumers, Ms. Luhana resides with her family in Brooklyn, New York.