In November 2015, the European Food Safety Authority (EFSA) announced that there was insufficient evidence to conclude that glyphosate can cause cancer.  Glyphosate is the main herbicide in Roundup.
Following a peer review of the risks, the EFSA stated that "glyphosate is unlikely to pose a carcinogenic hazard to humans and the evidence does not support classification with regard to its carcinogenic potential…." Critics have asserted that the EFSA's determination was based in part on unpublished industry-funded studies.
The EFSA's finding also conflicted with the International Agency for Research on Cancer's (IARC) findings, which were announced in March 2015. IARC determined that glyphosate was "probably carcinogenic to humans." The EFSA conceded that it considered the IARC's findings, but reached the opposite conclusion regarding glyphosate's potential carcinogenicity.
Now the issue has come to a head as the European Union (EU) prepares to vote on whether to extend glyphosate's license for another ten years. According to Reuters, French officials plan to vote against renewing the approval because of concerns about glyphosate's health risks.
Agencies Argue Over Glyphosate Cancer Risks
Roundup is manufactured by Monsanto. It is one of the world's most widely used herbicides and is used extensively by farmers and landscapers in the U.S. and abroad. But France's votes against renewing the license could block the EU from obtaining the votes needed to renew the product's license. The license will be renewed if a qualified majority of member states vote in favor of renewal. The EU vote had been set for October 4, but was then pushed to later in the year.
Germany and France abstained from voting on glyphosate's license in the past. Roundup maintained its approval status by a thin majority vote. But if France follow-through on its promise to vote against approval, the pendulum could swing the other direction.
The EU became concerned about the safety of glyphosate after the IARC's report in 2015. Since then, over one million have signed an EU petition to ban the herbicide.
Plaintiffs Claim that After Long-Term Roundup Use, They Developed Cancer
Meanwhile, Monsanto is defending hundreds of Roundup lawsuits brought by individuals who claim that they developed non-Hodgkin's lymphoma (NHL) and other serious health problems due to Roundup exposure. All federally-filed lawsuits have been consolidated into the U.S. District Court for the Northern District of California for pre-trial proceedings.
U.S. District Judge Vince Chhabria has already determined that the litigation will be bifurcated, so the parties will first address general causation (i.e., whether glyphosate can cause NHL). To establish this link, plaintiffs are likely to point to several studies, including a 2003 study of 3,400 farmers that showed glyphosate exposure was associated with an increased incidence of NHL.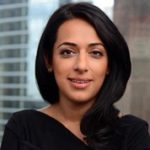 Exclusively focused on representing plaintiffs—especially in mass tort litigation—Roopal Luhana prides herself on providing unsurpassed professional legal services in pursuit of the specific goals of her clients and their families. While she handles complex cases nationwide on behalf of consumers, Ms. Luhana resides with her family in Brooklyn, New York.