According to a recent report by the Centers for Medicare and Medicaid Services (CMS), doctors and hospitals received even more money in 2018 from pharmaceutical and medical device manufacturers than they did in 2017. These payments were for things like doctor speaking and consulting fees, royalties paid to teach hospitals, and travel and food expenses.
Studies have found that doctor payments increase drug prescribing. A 2018 study reported that the average payment increases prescribing of the drug by 73 percent. An even more recent 2019 study published in the journal Addiction showed that physicians who received direct payments from providers for opioid drugs tended to prescribe substantially larger quantities of those drugs, particularly hydrocodone and oxycodone.
Medical Companies Pay Doctors Big Bucks
The latest data from consumer advocate ProPublica's "Dollars for Docs" shows that between August 2013 and December 2016, pharmaceutical companies paid doctors over $9 billion for promotional talks, research and consulting, and other "general" items.
Among the highest-paying companies include Genentech, Zimmer Biomet, DePuy, Stryker, AstraZeneca, Pfizer, Allergan, Arthrex, and Janssen. Some of the highest-earning doctors received more than $60 million each.
Researchers reported in a 2019 study that from 1997 to 2016, medical marketing expanded substantially, with spending increasing from $17.7 to 29.9 billion. Direct-to-consumer advertising experienced the biggest jump in overall spending, while pharmaceutical marketing to health professionals counted for most of the promotional spending, increasing from $15.6 billion to $20.3 billion, broken down as follows:
$5.6 billion for prescriber detailing
$13.5 billion for free samples
$979 million for direct physician payments (speaking fees, meals) related to specific drugs
$59 million for disease education
Pharmaceutical and medical device companies are known for regularly sending sales representatives to doctors' offices for face-to-face visits. These representatives provide doctors with free drug samples, and offer payments for foods and beverages, travel, speeches, and disease education.
Restrictions on Pharmaceutical Companies May Help
There has been some effort in the industry to protect patients against potential doctor bias when it comes to prescription drugs and medical devices. In a 2017 study, researchers found that physician prescribing behavior changed after U.S. academic medical centers implemented policies that limited doctor interactions with salespeople.
Results showed that when sales reps did not have unrestricted access to physicians, those physicians were more likely to prescribe generic drugs rather than the more expensive brand-name medications.
Other hospitals and medical centers have implemented similar restrictions, making it clear that pharmaceutical representatives can't give doctors gifts and that they must make appointments to visit rather than just dropping by.
Some states are also considering legislation to curb pharmaceutical company influence over doctors. In 2018, the California Senate passed legislation that restricted pharmaceutical companies from giving gifts and incentives to medical professionals, including flights, travel, entertainment, and even speaking fees.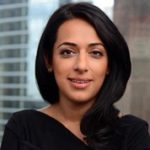 Exclusively focused on representing plaintiffs—especially in mass tort litigation—Roopal Luhana prides herself on providing unsurpassed professional legal services in pursuit of the specific goals of her clients and their families. While she handles complex cases nationwide on behalf of consumers, Ms. Luhana resides with her family in Brooklyn, New York.