Johnson & Johnson (J&J) has failed to overturn the verdict in another baby powder cancer lawsuit, but the company did manage to get the damages reduced.
Back in June 2019, a New York jury handed down a $325 million verdict in favor of the plaintiff, a woman from Brooklyn who was diagnosed with mesothelioma in 2016. The plaintiff blamed J&J for her diagnosis, stating that she had used Johnson's Baby Powder for years and had thus inhaled potentially cancer-causing particles which later damaged her lungs.
The jury agreed and J&J appealed the verdict. On November 11, 2020, Justice Gerald Lebovits of the New York Supreme Court upheld the jury's finding but reduced the payout to $120 million.
Judge Reduces Verdict in J&J Baby Powder Trial
The plaintiff in this case, like many other plaintiffs, blamed the talc in Johnson's Baby Powder for her mesothelioma (a rare type of lung cancer). She and her lawyers presented evidence that the company's raw talc sometimes tested positive for asbestos, a cancer-causing agent—something J&J failed to warn consumers about.
In a 2018 report, Reuters revealed that at least from 1971 to the early 2000s, J&J was aware that both its raw talc and finished powders sometimes tested positive for small amounts of asbestos, and that "company executives, mine managers, scientists, doctors, and lawyers fretted over the problem and how to address it while failing to disclose it to regulators or the public."
The plaintiff's evidence convinced the jury, but upon appeal, Justice Lebovits stated the verdict was too high and stated the plaintiff and her husband could take the reduced amount of $120 million, or opt for a new trial. The plaintiffs accepted the lower payout, which includes $15 million in compensatory damages and $105 million in punitive damages.
J&J has once again vowed to appeal this verdict, citing "significant legal and evidentiary errors" in the trial.
J&J Has Lost Several High-Profile Baby Powder Lawsuits
Meanwhile, there are about 20,000 Johnson's Baby Powder and Shower-to-Shower lawsuits pending throughout the country, with most of those centralized in the District of New Jersey. So far, several juries have handed down verdicts in favor of the plaintiffs.
In 2018, for instance, a Missouri state court jury awarded a group of 22 women diagnosed with ovarian cancer $4.7 billion in damages. The women claimed to have used Johnson's Baby Powder for years. That verdict was later reduced upon appeal, with J&J ordered to pay $500 million in compensatory and $1.62 billion in punitive damages. J&J has petitioned the U.S. Supreme Court to review the case.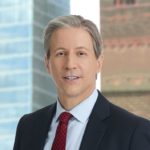 Exclusively focused on representing plaintiffs, especially in mass tort litigation, Eric Chaffin prides himself on providing unsurpassed professional legal services in pursuit of the specific goals of his clients and their families. Both his work and his cases have been featured in the national press, including on ABC's Good Morning America.