A Nebraska woman recently filed a new Beovu lawsuit in the U.S. District Court for the District of Nebraska. She claims that after taking Beovu (brolucizumab), she suffered from serious injuries. She is seeking damages from manufacturer Novartis Pharmaceuticals.
Patient Prescribed Beovu but Later Suffers Vision Loss
The plaintiff states in her complaint that she was prescribed Beovu by her doctor, and used it as directed. Beovu is used to treat wet age-related macular degeneration (AMD), a chronic eye disorder that leads to blurred vision or a blind spot in the visual field.
Wet AMD is usually caused by abnormal blood vessels that grow under the retina and macula of the eye. These vessels leak fluid or blood, causing the macula to bulge or lift from its normally flat position. Since the macula is responsible for central vision, this bulging action can distort or destroy central vision.
Beovu is a prescription medication that slows the growth of these abnormal blood vessels in the eye. It came onto the market in October 2019. There were other similar drugs already available at that time, but Novartis stated Beovu was superior when reducing fluid leakage in the eye while requiring fewer injections—a plus for patients.
Yet soon after it was released, Beovu was linked with reports of vision problems. The plaintiff herself suffered central retinal artery occlusion (the blockage of blood to the retina) and other serious eye injuries after taking it, resulting in permanent vision losses. She blames Novartis for failing to warn about these risks, and for neglecting to exercise reasonable care in advertising and producing the drug.
Novartis Was Aware of Vision Risks But Failed to Warn About Them
On February 23, 2020—just a few months after Beovu was released—the American Society of Retina Specialists (ASRS) issued an alert to its members stating it had received 14 reported cases of vasculitis (inflamed blood vessels) following Beovu injections, 11 of which were designated as occlusive retinal vasculitis (in which blood vessels were blocked or closed off).
On March 30, 2020, the ASRS issued an update noting the number of cases of retinal vasculitis had risen to 25, with 21 involving retinal occlusion. Meanwhile, Novartis announced it was conducting a comprehensive review of the cases and would commission an external safety review of Beovu. On April 8, 2020, Novartis confirmed that rare adverse events of "retinal vasculitis and/or retinal vascular occlusion that may result in severe vision loss" had occurred in patients taking Beovu.
On June 4, 2020, the ASRS issued a report on the trials Novartis used to gain FDA approval for Beovu. An external safety review committee determined that 3.3 percent of the participants in those trials experienced retinal vasculitis, of which 2.1 percent also had vascular occlusion.
This made it clear that Novartis was aware of the risks, yet failed to include the proper warnings in its product packaging. In comparing its findings with the data originally reported by Novartis to the FDA, ASRS commented, "the [Safety Review Committee] found that their observed incidences of both retinal vasculitis and retinal vascular occlusion were higher than the incidences reported by the investigators."
Novartis revised the product labeling for Beovu on June 9, 2020, to include a new warning regarding the risk of these vision problems. Before this time, no warnings regarding these risks were present in the United States product labeling for Beovu.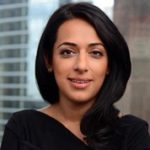 Exclusively focused on representing plaintiffs—especially in mass tort litigation—Roopal Luhana prides herself on providing unsurpassed professional legal services in pursuit of the specific goals of her clients and their families. While she handles complex cases nationwide on behalf of consumers, Ms. Luhana resides with her family in Brooklyn, New York.