Nine plaintiffs have jointly filed a new Zantac cancer lawsuit in the U.S. District Court for the District of New Jersey.  The plaintiffs have named as defendants all Zantac manufacturers, including Boehringer Ingelheim Pharmaceuticals, Chattem Inc., GlaxoSmithKline, Pfizer, and the current manufacturer, Sanofi.
All plaintiffs purchased and used Zantac, and 8 of the 9 were subsequently diagnosed with cancer.
Plaintiffs Blame Manufacturers for Selling Potentially Contaminated Products
In September 2019, the FDA notified the public and healthcare providers that NDMA had been discovered in samples of Zantac and generic ranitidine medications.  Since then, many companies have recalled their products from the market.
The plaintiffs blame the manufacturers for selling Zantac for decades without warning consumers about the dangers.
NDMA is classified as a probable human carcinogen, and though it's not produced in the U.S. except as a research chemical, it can still form as a byproduct in various manufacturing processes.  Humans are exposed to NDMA via tobacco smoke, drinking water, certain foods (cured meats, beer, fish, cheese, and others), toiletry and cosmetic products, pesticides, and various household goods.
NDMA can cause cancer by damaging DNA.  Most studies connecting it to cancer were performed in animals, but the World Health Organization (WHO) refers to several case-control studies and one cohort study supporting the connection between the consumption of NDMA and gastric or colorectal cancer.
The FDA has been investigating NDMA contamination in blood pressure medications like valsartan for over a year.  As a result of this investigation, there have been dozens of recalls of these medications because they were found to contain unsafe levels of NDMA.
Most Plaintiffs Claim to Have Developed Cancer After Long-Term Zantac Use
In the complaint, a plaintiff from Oklahoma states that he started taking Zantac in 1988, and then used it on average twice a day, seven days a week.  He was diagnosed with colorectal cancer in 2017.
Another from Connecticut started using Zantac in 1989 and was diagnosed with kidney cancer in 2012.  One from Illinois is representing her family member, who passed away in April 2019.  The decedent started taking Zantac in 1990 and went on to take it on average three times a day.  He was diagnosed with stomach cancer in 2016.
Other plaintiffs also used Zantac regularly and were diagnosed with stomach, bladder, colorectal, and esophageal cancer.  Only one of the nine plaintiffs has not yet developed cancer and is joining the lawsuit because he believes he is now at an increased risk for the disease because he's been taking Zantac about twice a day since 1998.
The plaintiffs bring counts of negligence, design defect, failure to warn, fraud by omission, breach of warranties, and more.  They seek compensatory, exemplary, and punitive damages.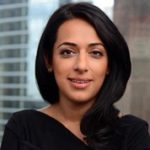 Exclusively focused on representing plaintiffs—especially in mass tort litigation—Roopal Luhana prides herself on providing unsurpassed professional legal services in pursuit of the specific goals of her clients and their families. While she handles complex cases nationwide on behalf of consumers, Ms. Luhana resides with her family in Brooklyn, New York.