Elmiron manufacturer Janssen Pharmaceuticals is defending a growing number of lawsuits filed by patients who took the drug and later suffered from vision loss. A new study recently published in the journal Clinical Ophthalmology gives those plaintiffs more evidence that Elmiron (pentosan polysulfate sodium or PPS) can have a unique negative effect on the eye, sometimes causing distinct pigmentary changes that are not related to any other eye health condition.
Scientists Identify Unique Elmiron-Related Eye Disease
Scientists from Northwestern University reviewed data from patients who were seen at the ophthalmology clinic between January 2002 and January 2019. They noted various facts about each patient, including their visual acuity, the reason for going to the clinic, any eye health conditions, and how long they took PPS. They also looked at images taken of the eyes when they were available.
They found a total of 131 patients who were exposed to PPS and seen at the clinic. Forty of them had images taken of their eyes. Of those, five had features suspicious for "PPS maculopathy." This is a progressive eye health condition identified in previous studies as being linked to PPS. Of the remaining 91 patients, five had similar macular pigmentary changes described in their exam reports.
Among the 10 patients diagnosed with PPS-related eye problems, the average duration of their time on the drug was 4.2 years. The scientists concluded that a "novel drug-induced maculopathy has been associated with PPS use with a distinct clinical constellation that can be accurately identified with multimodal imaging."
In other words, Elmiron is associated with a unique type of eye condition that is unlike any other and is easy to identify in images taken of the eye.
Several Studies Report a Link Between Elmiron and Vision Damage
Other scientists, when examining PPS use in patients experiencing vision problems, have come up with similar findings. In a 2018 study published in Ophthalmology, researchers reported on six patients who were suffering from visual symptoms including difficulty reading and seeing in low light conditions. Imaging showed subtle hyperpigmentation (dark spots) on the retina of the eye.
In a 2019 study published in the Journal of Urology, researchers identified 10 patients who reported similar visual problems—difficulty reading and seeing well in dim lighting. They had all been taking PPS. Imaging showed the same type of dark spots on the retina, a condition that scientists called "pigmentary maculopathy."
More studies followed, all suggesting that long-term intake of Elmiron can increase the risk of suffering this unique type of vision damage. Janssen Pharmaceuticals, however, continued to sell its product without any updated warnings, leaving many patients and their doctors in the dark. It wasn't until June 2020 that the company finally updated the Elmiron label to warn that pigmentary maculopathy had been seen in patients taking the drug.
Currently, over 200 Elmiron lawsuits have been filed against Janssen, with all of the federal cases consolidated into the District of New Jersey in December 2020.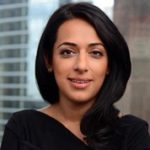 Exclusively focused on representing plaintiffs—especially in mass tort litigation—Roopal Luhana prides herself on providing unsurpassed professional legal services in pursuit of the specific goals of her clients and their families. While she handles complex cases nationwide on behalf of consumers, Ms. Luhana resides with her family in Brooklyn, New York.