A new study published in the scientific journal Retina suggests that long-term exposure to Elmiron (pentosan polysulfate sodium or PPS)—a drug used to treat interstitial cystitis (IC)—could increase the risk for vision problems.
This is only the latest in a series of studies finding a link between Elmiron and vision loss and provides more evidence for plaintiffs who are suing Elmiron manufacturer Janssen Pharmaceuticals for damages.
Researchers Find Link Between Using Elmiron and Suffering Vision Problems
For the study, researchers distributed a survey to an international list of individuals with interstitial cystitis (IC), a painful bladder condition that causes bladder pain, pelvic pressure, and a frequent urge to urinate. Elmiron is the only drug currently approved to treat IC.
The survey was completed by 912 respondents with a median age of 55. The researchers analyzed the respondents' use of PPS, their visual function, and prior diagnoses of maculopathy—a condition affecting the macula of the eye, which is responsible for central vision.
Results showed that those with the highest exposure to PPS were more likely to report difficulty with reading small print and to have a diagnosis of macular degeneration and/or pigmentary maculopathy (a unique condition related to PPS) than those who were not exposed to the drug. The researchers suggested further study of visual function in PPS users.
The More Pills Taken, the Higher the Risk of Vision Loss
This is only the most recent of several studies showing a link between Elmiron use—particularly, long-term use—and vision problems. In 2019, research presented at the 123rd annual meeting of the American Academy of Ophthalmology showed that about one-quarter of patients with significant exposure to Elmiron showed definite signs of eye damage.
Specifically, the scientists found 140 patients who had taken an average of 5,000 pills each over the course of 15 years. Of those, 91 agreed to come in for an exam. Twenty-two of those showed clear signs of drug toxicity affecting the eyes. The rate of toxicity increased depending on the amount of drug consumed, from 11 percent of those taking 500 to 1,000 grams to 42 percent of those taking 1,500 grams or more.
"It's unfortunate," said study author Robin A. Vora, M.D. "You have a patient with a chronic condition like interstitial cystitis, for which there is no cure and no effective treatment. They get put on these medications because it's thought to have few side effects and few risks, and no one thinks about it again. And year after year, the number of pills they're taking goes up and up."
It remains unclear how much medication is too much, so doctors and scientists now recommend that patients get screened at least once a year while taking Elmiron.
Plaintiffs File Lawsuits Against Janssen Pharmaceuticals
Considering these and other studies, many individuals who took Elmiron and then were diagnosed with vision problems have filed lawsuits against Janssen seeking damages. Others are doing the same because of the increased medical monitoring they must now endure.
On December 15, 2020, the U.S. Judicial Panel on Multidistrict Litigation (JPML) ordered all federally filed Elmiron lawsuits to be consolidated in the District of New Jersey. District Judge Brian R. Martinotti was appointed to oversee the pretrial proceedings.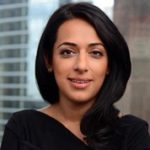 Exclusively focused on representing plaintiffs—especially in mass tort litigation—Roopal Luhana prides herself on providing unsurpassed professional legal services in pursuit of the specific goals of her clients and their families. While she handles complex cases nationwide on behalf of consumers, Ms. Luhana resides with her family in Brooklyn, New York.