A Missouri woman recently filed a new hair relaxer lawsuit in the U.S. District Court for the Western District of Missouri. She claims that after regularly using products made by L'Oréal, SoftSheen Carson, Strength of Nature, and Namaste, she suffered from serious injuries. She seeks both compensatory and punitive damages.
Plaintiff Claims Regular Use of Hair Relaxers Led to Ovarian Cancer
According to her complaint, the plaintiff was first exposed to the defendants' products around 1991, when she was 16 years old. She applied them to her scalp or had another individual apply them, following the instructions for use. She never saw any indication on the product packaging or otherwise, that normal use could cause her to develop serious health problems.
In February 2010, when she was 35 years old, she was diagnosed with ovarian cancer. She underwent a laparoscopic hysterectomy in March 2020, then underwent an additional surgical procedure in June 2020. She then had to go through numerous rounds of chemotherapy in 2013 and began additional rounds in June 2022.
She blames the defendants for her condition, claiming they failed to warn consumers about the dangerous risks associated with their products.
Study Links Frequent Use of Hair Relaxers with Higher Risk of Ovarian Cancer
The National Institutes of Health (NIH) has been conducting comprehensive research on risk factors for female cancers. Called the "Sister Study," it includes over 33,000 participants. The institute published some of the early results in 2021.
In "Use of Hair Products in Relation to Ovarian Cancer Risk," the researchers examined the question, "Are hair products—which may contain carcinogens and endocrine disruptors that can be absorbed through the scalp and into the bloodstream—related to ovarian cancer incidence?"
After excluding women with a history of ovarian cancer or surgery to remove the ovaries, the scientists looked at data from over 40,000 women ages 35-74. These participants completed questionnaires on the hair products they used, including hair dyes, straighteners/relaxers, and permanents/body waves, over the past 12 months.
Over a mean follow-up of 10 years, 241 women were diagnosed with ovarian cancer. Frequent use (more than four times per year) of straighteners/relaxers or pressing products in the past year was associated with an increased risk of ovarian cancer when compared to never use.
"Our novel findings suggest that frequent use of hair straighteners/relaxers or pressing products," the researchers wrote, "which are primarily used by African American/Black women…may be associated with the occurrence of ovarian cancers."
Other Studies Link Regular Use of Hair Relaxers to Other Female Cancers
Research has shown a connection between the use of chemical hair relaxers and other hormone-sensitive female cancers, including uterine and breast cancer.
In a 2022 study—also part of the Sister Study—scientists found that ever vs. never use of straightening products in the past 12 months was associated with higher incident uterine cancer rates The association was stronger when comparing frequent use (more than 4 times in the past 12 months) vs. never use. The use of other hair products like dyes and permanents or body waves was not associated with uterine cancer.
In a 2021 study, scientists used data from the Black Women's Health Study to find some evidence that heavy use of lye-containing hair relaxers may be associated with an increased risk of breast cancer.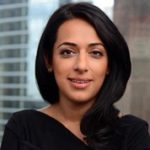 Exclusively focused on representing plaintiffs—especially in mass tort litigation—Roopal Luhana prides herself on providing unsurpassed professional legal services in pursuit of the specific goals of her clients and their families. While she handles complex cases nationwide on behalf of consumers, Ms. Luhana resides with her family in Brooklyn, New York.