On March 28, 2018, a Minnesota man filed a new Smith & Nephew Birmingham hip replacement lawsuit in the U.S. District Court for the District of Maryland. He claims that after he was implanted with the hip replacement, he experienced serious injuries. He seeks both compensatory and punitive damages in excess of $75,000.
Back in mid-2017, the U.S. Judicial Panel on Multidistrict Litigation consolidated all Smith & Nephew Birmingham lawsuits in the District of Maryland. This case will now join the growing litigation there.
Plaintiff Implanted with BHR System and Has to Undergo Risky Revision Surgery
According to his complaint, the plaintiff was implanted with the Birmingham Hip Resurfacing (BHR) system in his right hip on February 18, 2008. The procedure took place at United Hospital in St. Paul, Minnesota.
Less than ten years later, the plaintiff had to go through dangerous and risky revision surgery to have the implant repaired. He had been experiencing pain and other complications that he says were caused by the failure of the hip system to work as expected. In the operative notes, the surgeon described a "creamy reactive fluid" that tested negative for infection, as well as "trunnionosis" and other symptoms of implant failure.
Plaintiff Implanted with Device Not Approved by the FDA
Trunnionosis is a term describing the corrosion that can occur between metal surfaces of a hip implant between the head and neck connection. The Birmingham Hip Resurfacing system is one of several so-called "metal-on-metal" hip replacements that places metal materials next to one another. Over time, as these materials wear back and forth with everyday movement, they can allegedly shed metal materials into the joint area and cause serious side effects.
In a 2015 study, researchers described "trunnionosis" as a potential factor in causing pseudotumors and related hip-implant problems. The Smith & Nephew BHR system is comprised of a resurfacing femoral head (which goes into the thigh bone) and a matching metal acetabular cup (which goes into the hip socket).
The plaintiff states in his complaint that his implant included an approved BHR acetabular cup, but also a modular head and femoral stem "that were not approved for use with the cup." As such, he describes the entire implant as "not approved by the FDA."
Yet the surgeon's decision to implant the BHR this way was allegedly based on express and implied representations made by Smith & Nephew. The company's marketing and training permitted use of its femoral stem and modular femoral head with its BHR acetabular cup, even though such a combination allegedly violates the FDA's regulations.
Plaintiff Suffered from Hip-Implant Metallosis
The plaintiff also alleges that his implant failed in part because of the metal ions created by the metal components rubbing together. Over time, these ions entered his bloodstream, destroyed tissue, and created an adverse reaction to the implant, causing it to fail. He brings counts of strict products liability, negligence, breach of warranties, negligent misrepresentation, unfair and deceptive trade practices, fraudulent concealment, and negligent infliction of emotional distress.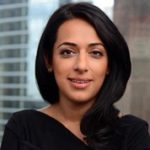 Exclusively focused on representing plaintiffs—especially in mass tort litigation—Roopal Luhana prides herself on providing unsurpassed professional legal services in pursuit of the specific goals of her clients and their families. While she handles complex cases nationwide on behalf of consumers, Ms. Luhana resides with her family in Brooklyn, New York.