Joint replacement surgeries continue to gain popularity, but a recent study suggests that younger adults may want to approach them with more caution. A study published in the medical journal Lancet, found that people who went through either knee or hip replacement surgery at a younger age were more likely than their older counterparts to have to undergo revision surgery.
Revision surgery is typically riskier than original joint replacement surgery and leaves the patient more vulnerable to infections, complications, and longer recovery times.
Researchers Find Joint Replacement Riskier for Younger Patients
For the study, researchers analyzed data from the Clinical Practice Research Datalink on just over 63,000 patients who had undergone a total hip replacement and 54,000 that had total knee replacements. The surgeries took place between January 1, 1991 and August 10, 2011. Researchers followed the patients for a maximum of 20 years, to see how they made out with their prosthetic joints.
Results showed the following:
For total hip replacement, the 10-year implant survival rate was 95-96 percent, and the 20-year rate 85 percent.
For total knee replacement, the 10-year implant survival rate was 96 percent, and 20-year rate 89 percent.
The lifetime risk of requiring revision surgery in patients who went through either operation and were over the age of 70 was about 5 percent, with no gender differences.
Younger patients, however, were at a higher risk for revision surgery. Men in their early 50s had an up to 35 percent increased risk of revision. Women in the same age group had an up to 20 percent increased risk.
Researchers concluded that these types of joint replacements are riskier, in general, for younger patients: "Our evidence challenges the increasing trend for more total hip replacements and total knee replacements to be done in the younger patient group, and this data should be offered to patients as part of the shared decision making process."
Some Implants More Dangerous Than Others
In addition to the general risks of joint replacement surgery, there are also some risks that are present only with certain types of replacement systems. Those made of metal materials, for example, like cobalt and chromium, have been found to lead to more revision surgeries than those made of combination materials, like plastic, ceramic and metal.
In fact, the FDA warned that so-called metal-on-metal hip implants have "unique risks in addition to the general risks of all hip implants." The ball and cup can slide against one another during regular activities, causing some tiny metal particles to wear off and spread around the implant. Results may include tissue damage and death, swelling, pseudotumors, implant loosening and the need for revision surgery.
The Stryker LFIT Anatomic CoCr V40 femoral head was recently recalled by the company because of these sorts of problems. Stryker noted that they had received a higher than expected rate of complaints about the implant component failing and causing joint dislocation and metal poisoning. The company is now defending a number of lawsuits filed by plaintiffs who were injured by this component.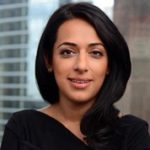 Exclusively focused on representing plaintiffs—especially in mass tort litigation—Roopal Luhana prides herself on providing unsurpassed professional legal services in pursuit of the specific goals of her clients and their families. While she handles complex cases nationwide on behalf of consumers, Ms. Luhana resides with her family in Brooklyn, New York.