In the summer of 2012, the Medicine and Healthcare products Regulatory Agency (MHRA) in the U.K. suggested that patients with certain types of metal-on-metal (MoM) hip implants should have annual checkups for as long as they have their implants. Because these implants are more likely to loosen, dislocate, or cause metal contamination than those made of other materials, doctors suggest more frequent checkups to catch problems early.
Now, a new study shows that ultrasounds may be one of the best tools to use to detect MoM hips that are failing prematurely. Many patients may not experience symptoms in the early stages of hip replacement complications, but an ultrasound can detect issues before they cause extended tissue damage and bone loss.
FDA Warns About MoM Hip Complications
On January 17, 2013, the FDA released a new safety communication warning that MoM hip implants have unique risks in addition to the general risks seen with all hip implants. "In metal-on-metal hip implants," the agency stated, "the metal ball and the metal cup slide against each other during walking or running. Metal can also be released from other parts of the implant where two implant components connect."
This fretting and corrosion can cause serious complications, including soft tissue and bone damage, pain, implant loosening, pseudotumors (pockets of swelling) and premature implant failure requiring revision surgery.
In the absence of pain, however, sometimes these damages can occur inside the joint without the patient's knowledge. Like the MHRA, the FDA recommended that even patients who are not experiencing symptoms of complications should be examined every 1-2 years.
The Ultrasound Works as Well as MARS, but Costs Less
Researchers from Vancouver, British Columbia recently presented the results of their study at the Hip Society Specialty Day Meeting in Chicago. They looked at 40 patients—28 men and 12 women—who had been implanted with MoM hip devices. These patients went through checkups where doctors looked for any complications through both an ultrasound and a metal artifact reduction sequence (MARS) MRI.
The results showed that both tests were able to detect the presence of pseudotumors. The ultrasound was the preferred method because of its high sensitivity and lower cost.
Other Studies Show Similar Results
Other studies have also suggested the ultrasound as an effective method to use in MoM hip implant checkups. A 2013 study examined 25 hips from 16 patients, all of which were subjected to revision surgery for painful complications. Ultrasound and MRI tests were done prior to revision surgery. The ultrasound successfully showed the presence of pseudotumors in over 78 percent of patients, while the MRI showed them in just over 76 percent.
A study published in 2012 also showed that ultrasound was effective in detecting adverse reaction to metallic debris (AMRD). "Ultrasound is cheap, non-invasive and dynamic investigation and has been shown to be reliable in diagnosis of AMRD," the researchers wrote.
Thousands of patients in the United States and worldwide have been implanted with MoM hip devices. Many of these individuals have filed lawsuits across the country to recover damages for premature failures and other injuries. Those devices that have been named in lawsuits include the recalled DePuy ASR, the Zimmer Durom Cup, Biomet M2A Magnum, Wright Conserve, and Smith & Nephew R3 Liners.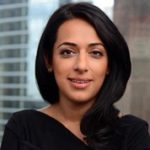 Exclusively focused on representing plaintiffs—especially in mass tort litigation—Roopal Luhana prides herself on providing unsurpassed professional legal services in pursuit of the specific goals of her clients and their families. While she handles complex cases nationwide on behalf of consumers, Ms. Luhana resides with her family in Brooklyn, New York.