A Texas couple filed a lawsuit against Physiomesh manufacturer Ethicon and parent company Johnson & Johnson on May 11, 2017. They claim the Physiomesh Flexible Composit Mesh, which is used to repair hernias, caused serious injuries to the wife, who was implanted with the product. They seek in excess of $75,000 in damages. The case is pending in the Southern District of Texas.
Plaintiff Blames Physiomesh for Pain and Revision Surgery

According to the complaint, the plaintiff underwent a procedure to repair a hernia on September 19, 2013. A Physiomesh device was implanted into her body at that time.
The FDA first approved Ethicon's Physiomesh on April 9, 2010. The product is made of a netting material and is designed to be used as a "patch" over areas of weak and stretched muscles and tissues. The outside of the patch contains a material that is supposed to help reduce the risk of inflammation and facilitate fast healing.
A year after the surgery, however, the plaintiff ended up back in the hospital. On June 11, 2014, she had to undergo revision surgery to address complications caused by the Physiomesh. According to the surgeon's report, he found "numerous balled-up, rolled-up, and incorporated [Physio]mesh," all of which had to be taken out "with difficulty using cautery and sharp dissection."
The plaintiff states that she continues to suffer from pain and other complications even after the revision surgery. She blames the manufacturers for creating a faulty product that was not safe or effective.
Physiomesh has been associated with other types of injuries as well, including chronic pain, hernia recurrence, infections, mesh migration, bowel obstructions, improper wound healing, excessive and chronic inflammation, and nerve damage, among others.
Plaintiff Criticizes Multi-Layer Design of Mesh
Physiomesh is compromised of five layers. The two outer layers are made of a "Monocryl" film, the next two of a polydioxanone film, and the center is a polypropylene mesh. The defendants promoted this multi-layer design as a way to prevent or minimize adhesion and inflammation, and encourage incorporation of the mesh into the body.
The plaintiffs allege, however, that this wasn't the case, and that instead, the multi-layer coating prevented mesh incorporation and caused inflammation, migration, and damage to the surrounding tissues.
She adds that the coating also prevents fluid escape, which leads to the formation of pockets of fluid (seromas) and can cause infection and abscess formation. And when the outer coating degrades, the mesh is exposed and can actually adhere to organs, causing damage.
The plaintiffs claim that the manufacturer failed to provide adequate warnings regarding the risks of its mesh, and brings counts of negligence, design and marketing defect, breach of warranties and misrepresentation. They seek compensatory and punitive damages.
A motion has been filed with the U.S. Judicial Panel on Multidistrict Litigation (JPML) to consolidate all federally-filed Physiomesh lawsuits.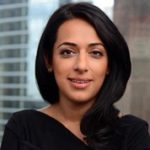 Exclusively focused on representing plaintiffs—especially in mass tort litigation—Roopal Luhana prides herself on providing unsurpassed professional legal services in pursuit of the specific goals of her clients and their families. While she handles complex cases nationwide on behalf of consumers, Ms. Luhana resides with her family in Brooklyn, New York.