On August 17, 2017, a Tennessee man filed a complaint against Howmedica Osteonics (d.b.a. Stryker Orthopaedics) and Stryker Corporation, claiming that after he was implanted with a Stryker LFIT femoral head, he suffered from serious injuries. The case is pending in the United States District Court for the District of Massachusetts.
Plaintiff Implanted with Stryker Hip Device; Suffers Metallosis
According to the complaint, the plaintiff was implanted with a Stryker Accolade TMZF hip stem and the LFIT anatomic CoCr V40 femoral head on March 6, 2014. He underwent the implant surgery at the Centennial Medical Center in Nashville, Tennessee.
He claims that after the surgery he started to experience discomfort in the area of the hip implant. An initial diagnostic workup revealed that his blood contained abnormally high levels of cobalt, chromium, and titanium. This is a sign of "metallosis," a condition in which the metals in the hip replacement components rub against one another and release metal ions into the bloodstream.
Metallosis can cause symptoms such as hearing and visual impairments, nerve damage, kidney impairment, thyroid problems, cognitive problems, and even cardiomyopathy. It is usually a sign that the metal components of the hip replacement system are corroding, and that additional damage may be present in the hip joint.
Considering these issues, the doctors recommended the plaintiff have the hip device removed. During surgery, they found that the device had failed, causing gross deformation of the Accolade TMZF stem together with severe and permanent tissue and muscle damage.
Plaintiff Notes Problems with Metal-On-Metal Design
Stryker released the Accolade TMZF hip stem, which is made of titanium, in March 2000. They stated in their promotional materials that it would maximize range of motion, increase stability, and prevent dislocation. The device was designed to be used with the V40 femoral head, which is made of a chromium/cobalt alloy.
Stryker claimed that their tests revealed no corrosion or fretting with this combination of materials, but later reports of patient problems conflicted with that statement. In August 2016, the company released an urgent medical device notification recalling certain sizes of the LFIT V40 femoral heads because of higher than expected complaints of taper lock failure.
They also noted that the devices could lead to metal wear and tear, adverse tissue reactions, and the need for revision surgery. The plaintiff claims that he suffered each of these issues, and that the combination of the LFIT stem with his Accolade hip system caused him to have to undergo a removal of the stem and femoral head.
Plaintiff Notes History of Stryker Recalls
The plaintiff notes that Stryker has a history of recalls associated with their metal components. In 2012, for example, they recalled the Rejuvenate and ABG II modular hip systems—both of these employed the same TMZF titanium metal in the femoral stem that was used in the plaintiff's Accolade system. The modular neck of both recalled devices was made with chromium/cobalt. They were recalled after reports indicated excessive fretting and corrosion where the two components were joined.
The plaintiff brings counts of negligence, breach of warranties, failure to warn, and design and manufacturing defect. He seeks compensatory and punitive damages.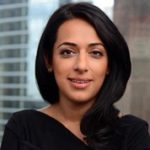 Exclusively focused on representing plaintiffs—especially in mass tort litigation—Roopal Luhana prides herself on providing unsurpassed professional legal services in pursuit of the specific goals of her clients and their families. While she handles complex cases nationwide on behalf of consumers, Ms. Luhana resides with her family in Brooklyn, New York.