In July 2012, Stryker Othorpaedics initiated a voluntary recall of its Rejuvenate Modular and ABG II modular-neck hip stems, due to potential risks of fretting and/or corrosion at the modular-neck junction. Such corrosion could lead to pain, swelling, tissue damage and eventual hip replacement failure.
Over the next few years, over 3,500 people filed Stryker hip lawsuits seeking compensation for medical expenses they incurred because of the defective hip components. The plaintiffs claimed that Stryker failed to provide adequate warnings about the risks associated with their hip replacement systems and also failed to conduct adequate studies before releasing them onto the market. Consolidated litigations were established for federal cases in the U.S. District Court for the District of Minnesota, and for state cases in the Bergen County Superior Court in New Jersey.
In 2014, Stryker agreed to a $1 billion settlement to resolve many of the hip lawsuits. The initial agreement covered only plaintiffs who were implanted with the defective component and underwent revision surgery, prior to November 3, 2014. The program was later expanded to include those who had revision surgery up to December 19, 2016.
Stryker Expects Most Payments to be Made by the End of the Year
According to a press release from Stryker in December 2016, patients eligible for payments through the settlement program include those who had surgery to remove their Rejuvenate hip stem and/or ABG II hip stem prior to December 19, 2016. Those who did not undergo revision surgery are not eligible under this program. Neither are those who previously resolved claims related to these products.
In addition, any eligible claimant is entitled to only one award for each revised hip that had to be repaired or replaced. That award is set at $300,000, subject to reductions or limitations. If a claimant had two hips replaced and the requirements are satisfied for both, the claimant will receive one award for each. If the claimant received two Stryker hips, but had to undergo revision surgery for only one, the company will deliver only one award.
In addition, there are some factors that can reduce the amount of the award. Age at time of surgery, for instance: those over the age of 85 will have their awards reduced by 20 percent. If the Stryker hip components were implanted as part of a revision surgery, award will be reduced by 15 percent.
In a press release dated May 8, 2017, Stryker stated that about 95 percent of eligible patients have enrolled in the settlement program under the Master Settlement Agreement announced in December 2016. The Claims Processor "will begin notifying claimants and their attorneys regarding compensation payments," the company states, with the exact timing and amount of each payment depending on "factors and circumstances specific to each claim." They expect the majority of payments to be made by the end of 2017.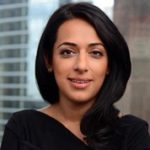 Exclusively focused on representing plaintiffs—especially in mass tort litigation—Roopal Luhana prides herself on providing unsurpassed professional legal services in pursuit of the specific goals of her clients and their families. While she handles complex cases nationwide on behalf of consumers, Ms. Luhana resides with her family in Brooklyn, New York.