Back in August 2016, Stryker Corporation released an urgent medical device notification to orthopedic surgeons, informing them that the company had received "higher than expected complaints of taper lock failure" for specific lots of the Stryker LFIT Anatomic CoCr V40TM femoral heads, manufactured prior to 2011. Stryker recalled about 42,000 of these products because they could cause hip dislocation and metallosis.
Now, in an updated product safety notification released on May 22, 2018, the company again warned orthopedic surgeons about issues connected with the LFIT V40, and added eight more catalog numbers to the recall. (The original contained 7 catalog numbers.) These new catalog numbers include:
6260-9-036
6260-9-136
6260-9-236
6260-9-336
6260-9-040
6260-9-140
6260-9-044
6260-9-144
Stryker Warns Surgeons of Potential Complications with LFIT V40 Femoral Heads
Stryker noted that because of issues with the LFIT V40 products made prior to 2011, patients could suffer from femoral head/hip stem dissociation. Symptoms may include dislocation, pain, fracture, leg-length discrepancy, loss of mobility, inflammation, adverse local tissue reaction, and other issues requiring complicated revision surgery.
Stryker suggested that surgeons continue to follow-up with patients implanted with these products "per the normal protocol established," and also asked them to inform product users of the issue. So far, Stryker is not requiring the affected products be returned.
Finally, the company included a phone number that doctors could give to patients with questions, which is 1-888-644-2548.
Stryker LFIT V40 Was Supposed to Minimize Risks
The femoral head is one of several components used in total hip replacement surgery. The natural femoral head is the "ball" part of the ball-and-socket mechanism that is the hip joint. The femoral head fits inside the pelvis bone's socket, allowing the hip joint to rotate.
When surgeons replace the hip with a prosthetic device, they put a man-made femoral head in place of the natural femoral head, then fit it inside a man-made acetabular cup, which replaces the socket. The head is attached to the hip stem, which is then driven into the thighbone.
The Stryker LFIT V40 femoral heads are designed to work with a variety of hip implant systems, including the Stryker Accolade TMZF, the Accolade 2, the Meridian, and the Citation. When these products first came out, Stryker advertised them as helping to minimize dislocation risks, but later reports showed the components had a higher-than-normal potential for corrosion at the head-neck junction. Such corrosion can cause accumulation of metallic debris around the joint, leading to tissue damage and catastrophic dissociation.
Stryker Paid Over $1 Billion to Settle Claims Concerning Other Hip Implant Products
Currently, Stryker faces hundreds of LFIT V40 lawsuits filed by plaintiffs who were implanted with the devices, then allegedly experienced serious injuries. All federally-filed LFIT V40 lawsuits were centralized in the U.S. District Court for the District of Massachusetts in April 2017. The first bellwether trial is scheduled to begin in September 2019.
Stryker faced similar claims related to their Rejuvenate and ABG II hip replacement systems. The company recalled these devices in 2012 and defended thousands of lawsuits filed by plaintiffs who claimed to have been injured by the products. The company eventually agreed to a more than $1 billion settlement to settle those claims.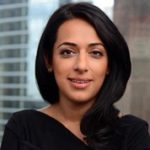 Exclusively focused on representing plaintiffs—especially in mass tort litigation—Roopal Luhana prides herself on providing unsurpassed professional legal services in pursuit of the specific goals of her clients and their families. While she handles complex cases nationwide on behalf of consumers, Ms. Luhana resides with her family in Brooklyn, New York.