When metal-on-metal (MoM) hip replacement implants first came on the market, they were advertised as being superior to other types of implants, providing for a stronger and more lasting hip joint repair. Numerous studies later revealed, however, that they actually created more serious risks than other types of hip replacement systems.
To date, MoM hip implants have injured thousands of people, and many manufacturers who designed them have had to defend their products in courts around the country. Smith & Nephew, for example—manufacturer of the Birmingham hip replacements—is currently defending hundreds of lawsuits centralized in the District of Maryland.
Smith & Nephew Warns of Higher Than Expected Revision Rates
Surgeons used the Birmingham Hip Resurfacing (BHR) system when they wanted to preserve the femoral head on top of the thighbone. In total hip replacement surgery, the femoral head is removed and replaced with a man-made one, but in hip resurfacing surgery, the femoral head is simply trimmed and capped with a metal covering. The BHR system was supposed to provide a conservative approach to hip replacement and was FDA approved in 2006.
In 2015, however, Smith & Nephew issued a field safety notice stating that females, males over the age of 65, and patients requiring an implant head size smaller than 48 millimeters, were at a higher risk of requiring revision surgery than expected. These patients could experience symptoms like pseudotumors, fluid collections, pain and swelling, and impaired function.
In a later field safety notice, the company advised doctors not to use the BHR in female patients, and to avoid using BHR femoral head components smaller than 46 millimeters. They reminded surgeons that patients requiring femoral head sizes of smaller than 48 millimeters were at a higher risk of revision surgery and "should not be considered as candidates for BHR implantation."
Plaintiffs who have filed lawsuits against Smith & Nephew concerning this implant claim that it was defective and subject to early failure, and that the manufacturer knew about the defects and failed to warn doctors and patients about the risks.
Smith & Nephew Defending Hundreds of Lawsuits in Maryland
Though the original BHR was made only for resurfacing hip surgery, the company later combined BHR components with other components for use in total hip replacement surgeries, as well. These hip replacements caused similar problems in patients, and lawsuits concerning them were added to the Smith & Nephew Birmingham MDL in March 2018.
Since then, there have been many new cases added to the growing litigation. The first bellwether trial concerning BHR resurfacing implants is scheduled to begin in March 2020.
This MDL also includes cases related to the R3 liners. The R3 implants placed a metal liner between the femoral head and cup, creating a metal-on-metal junction. The device ended up causing problems similar to the other Smith & Nephew hip implants, and the company issued a voluntary recall in June 2012.
After the company expressed a willingness to discuss potential settlements concerning the R3 liner and the total hip replacement cases, Judge Catherine Blake, who is overseeing the proceedings, ordered the parties to mediate.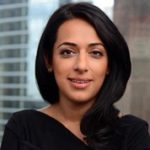 Exclusively focused on representing plaintiffs—especially in mass tort litigation—Roopal Luhana prides herself on providing unsurpassed professional legal services in pursuit of the specific goals of her clients and their families. While she handles complex cases nationwide on behalf of consumers, Ms. Luhana resides with her family in Brooklyn, New York.