On June 2, 2017, the U.S. Judicial Panel on Multidistrict Litigation (JPML) consolidated all federally filed Ethicon Physiomesh lawsuits into the Northern District of Georgia. Since then, more cases have joined the litigation. There are now over 80 pending in that court, with more expected to be filed over the coming months.
Plaintiffs claim that after being implanted with Physiomesh hernia patches, which have since been recalled, they suffered from serious injuries including adhesions, infections, mesh erosions, and other complications. The court held its first status conference on August 1, 2017.
Ethicon Recalls Physiomesh After Six Years on the Market
Manufacturer Ethicon, a subsidiary of Johnson & Johnson (J&J), released an urgent field safety notice on May 25, 2016, alerting hospitals and doctors to the fact that it was initiating a voluntary recall of its Physiomesh product. The company noted that an analysis of data from two large hernia registries showed recurrence and reoperation rates after laparoscopic hernia repair using Physiomesh were "higher than the average rates of the comparator set of meshes among patients in these registries."
Physiomesh was on the market for only six years prior to this recall, having been FDA-approved for the repair of ventral (abdominal) hernias in April 2010. The manufacturer did not have to submit clinical trials on their device to gain approval, however. Instead, they went through the FDA's fast-track 510(k) approval system, which only required that they prove their product was significantly similar to one already on the market.
Physiomesh was designed differently than other similar mesh products. It was made with five distinct layers: two layers of "Monocryl" film covering two underlying layers of PDS, which in turn, coat a polypropylene mesh. This design separates Physiomesh from other similar hernia repair meshes, and was something that the manufacturers advertised as being superior when they first released the product.
The multi-layer coating was supposed to prevent or minimize adhesion and inflammation, and encourage incorporation of the mesh into the body. Plaintiffs claim, however, that it does the opposite, and instead causes an intense inflammatory reaction, creates pockets of fluid buildup, slows healing of the surgical area, and attracts bacterial infections.
Physiomesh More Likely to Cause Problems Than Other Types of Mesh
Plaintiffs who have filed lawsuits in the consolidated litigation report extremely painful and lasting complications stemming from their Physiomesh implantations. Doctors use hernia mesh to help support stretched and protruding muscles and tissues. But plaintiffs claim Physiomesh has caused more harm, including internal infections, bleeding, organ perforation, tissue damage and death, and chronic, debilitating pain, often requiring multiple corrective surgeries.
Many times the damage is so severe and the mesh so embedded in the body that doctors are unable to remove it, and must leave some behind.
In support of their claims, plaintiffs refer to scientific studies showing that Physiomesh was more likely to cause complications than other hernia mesh products. In 2016, for example, researchers compared Physiomesh with Ventralight, another type of hernia mesh.
They observed 20 percent hernia recurrences in the Physiomesh group in the first 6 months after implantation, and none in the Ventralight group. They also observed a significantly higher rate of pain in the Physiomesh group after three months.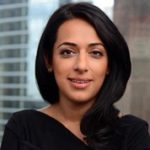 Exclusively focused on representing plaintiffs—especially in mass tort litigation—Roopal Luhana prides herself on providing unsurpassed professional legal services in pursuit of the specific goals of her clients and their families. While she handles complex cases nationwide on behalf of consumers, Ms. Luhana resides with her family in Brooklyn, New York.