A North Carolina man recently filed a new Zimmer M/L Taper Hip System lawsuit in the U.S. District Court for the Middle District of North Carolina. He names as defendant manufacturer Zimmer U.S. Inc., and claims that after he was implanted with the Zimmer hip replacement device, he suffered from serious injuries. He seeks compensatory and special damages in excess of $75,000.
Plaintiff Claims Zimmer M/L Taper Hip System is Defective
According to his complaint, the plaintiff had the Zimmer M/L Taper Hip System implanted in this right hip on February 27, 2012. He states that as a result of the defendants' defective design, manufacture, marketing, distribution, and/or sale of the device, he had to go back to the hospital to go through revision surgery on March 11, 2016.
According to the plaintiff, his complications included metallosis in the joint area, which indicates corrosion in the joint implant components, as well as pseudotumors (benign tumors made up of buildup fluid), and severe trunnionosis. This is a condition in which the femoral head and neck junction becomes worn down enough to lead to total hip arthroplasty failure.
As a result of these issues, the plaintiff states he suffered from pain in the hip and groin, elevated and unsafe blood levels of cobalt and chromium in his blood, metal debris in the joint tissue, and trunnion corrosion. During the revision surgery, the surgeon found cloudy fluid, a massive solid pseudotumor with necrosis (dead tissue), and grade-two trunnion corrosion, indicating wear between the femoral head and neck components.
The plaintiff notes that the failure in his device was "exactly the same mechanism of failure the Defendants had marketed and warranted would not occur because of the Zimmer M/L Taper Hip System design and composition."
Plaintiff Points Out Zimmer Did Not Conduct Clinical Trials Prior to Product Approval
The Zimmer M/L Taper Hip System consists of four parts:
The M/L Taper Femoral Stem, made of titanium alloy
The Versys Hip System Femoral Head, made of cobalt/chromium alloy and affixed to the trunnion of the femoral stem
The Converge Acetabular System Shell made of titanium alloy
The Epsilon Durasul Liner made of cross-linked polyethylene
Though the system was marketed as a "metal-on-polyethylene" system, it nevertheless placed a metal femoral stem against a metal femoral head, increasing the risk of corrosion with regular wear and tear.
The plaintiff states that Zimmer was aware of or should have been aware that combinations of metal alloys at a junction such as that between the metal heads and stems "generate excessive fretting, corrosion, and metal wear debris," yet the company failed to warn patients or surgeons of the potential risks.
The plaintiff adds that since Zimmer pursued the FDA's fast-track 510(k) approval system, they never had to perform clinical studies prior to marketing the device since that system requires only that they show their product was similar to others on the market.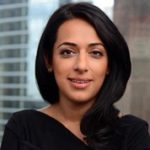 Exclusively focused on representing plaintiffs—especially in mass tort litigation—Roopal Luhana prides herself on providing unsurpassed professional legal services in pursuit of the specific goals of her clients and their families. While she handles complex cases nationwide on behalf of consumers, Ms. Luhana resides with her family in Brooklyn, New York.