Global online news organization The Guardian, along with other news organizations, is investigating the medical implants industry in the wake of thousands of reports showing adverse events linked with devices like hip implants and hernia mesh implants. A large number of these devices have been recalled from the market because of defects, but prior to those recalls, many such devices were implanted in thousands of people, many of whom suffered serious injuries and complications.
Hip implants, in particular, have been problematic, particularly metal-on-metal implants that place cobalt and chromium components against one other. Over time, as a result of fretting and corrosion, patients could experience pseudotumors, tissue damage, inflammation, swelling, hip dislocation, and hip implant failure.
DePuy ASR Hip Implant Has High Rate of Failure
The problem began back in the late 1990s when medical technology companies first began developing metal-on-metal total hip replacement devices and hip resurfacing systems. Certain variations placed a metal ball inside a metal socket as part of the device, which was thought at the time to provide for longer wear and a stronger implant.
However, it was later discovered that such metal on metal implants resulted in high levels of cobalt and chromium not only in the joint itself but in a person's bloodstream.
In 2005, the FDA approved the DePuy Orthopaedics ASR hip replacement system. The company didn't have to perform clinical studies on the product to gain approval. Since the company went through the FDA's fast-track 510(k) approval system, it had only to prove that the device was significantly similar to others already on the market.
But a short five years later, the company had to issue a worldwide recall of the DePuy ASR due to hundreds of reported device failures.
Later that year, the U.S. Judicial Panel on Multidistrict Litigation (JPML) ordered all DePuy ASR federally-filed lawsuits be consolidated in the Northern District of Ohio. Between 2013 and 2017, reportedly DePuy paid millions of dollars to settle claims.
FDA Warns of Dangers with Metal-on-Metal Hip Implants
Other medical companies selling hip implant systems would follow in DePuy's footsteps, recalling certain systems after discovering the devices weren't working as expected. Meanwhile, as research mounted showing the negative effects of metal-on-metal implants, the FDA warned that though all artificial hip systems carry risks, metal-on-metal varieties "have unique risks in addition to the general risks of all hip implants."
The administration added that the metal ball and metal cup "slide against each other during walking or running. Metal can also be released from other parts of the implant where two implant components connect." This type of wear and corrosion can also occur between the metal ball and the taper of the stem component (which goes into the thigh bone).
Over time, the metal particles can damage tissue and bone around the implant, leading to pain, implant loosening, and device failure. Once the device is no longer working, patients likely have to undergo revision surgery to have new devices implanted.
Patients who received these types of hip implants should watch for symptoms like:
general hypersensitivity (skin rash)
pain in the joint
kidney dysfunction
visual or auditory impairments
thyroid problems
and cardiomyopathy,
as these could all be signs of metal corrosion. If any of these symptoms are present, speak to your doctor and request a blood test to monitor metal ion levels.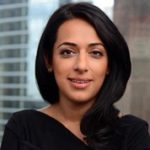 Exclusively focused on representing plaintiffs—especially in mass tort litigation—Roopal Luhana prides herself on providing unsurpassed professional legal services in pursuit of the specific goals of her clients and their families. While she handles complex cases nationwide on behalf of consumers, Ms. Luhana resides with her family in Brooklyn, New York.