A recent study published in JAMA Internal Medicine raises more concerns about the safety of inferior vena cava (IVC) filters when used in older patients with pulmonary embolism (PE—a blood clot in the lung). Results of the study showed that patients receiving an IVC filter were more likely to die than those that did not receive one.
Study Shows Patients Who Receive an IVC Filter More Likely to Die
For the new study, researchers examined data from patients hospitalized for acute pulmonary embolism between 2011 and 2014. Results showed that the IVC filters were associated with a higher rate of 30-day all-cause mortality. One-year all-cause mortality was also higher—20.5 percent for those with a filter, vs. 13.4 percent for those without one.
These devices are supposed to help save lives, but this study suggests that instead, they may do more harm than good. The researchers wrote that their findings did not indicate an association between IVC filters and lower mortality, but rather, "our study showed hypothesis-generating findings for increased risk."
FDA Warns of Risks Associated with IVC Filters
IVC filters are small, cage-like devices that are implanted into the vena cava, which is the largest vein returning blood from the legs back up to the heart and lungs.
Once in place, the device is designed to catch and trap any blood clots that may be traveling up through the vein before they can cause a pulmonary embolism. Once the clot is trapped, it eventually dissipates without causing harm.
Several studies have shown that these devices do not work as expected, however. In May 2014, the FDA issued a safety communication noting that IVC filters had been linked to problems like perforation of the IVC, filter fracture and migration to other parts of the body, and embolization (where the entire filter or parts of it moves to the heart or lungs).
The FDA suggested then that the devices should be removed as soon as possible once the danger of a PE has passed, typically within 29 and 54 days of implantation.
Plaintiffs Seek Damages from Alleged IVC Filter Injuries in Court
Manufacturers C. R. Bard and Cook Medical, Inc. together face nearly 10,000 IVC filter lawsuits filed by plaintiffs who claim to have been injured by the devices. Federally filed cases concerning C. R. Bard devices are centralized in the U.S. District Court for the District of Arizona, and those involving Cook Medical's devices are centralized in the U.S. District Court for the District of Indiana.
The first three lawsuits to go to trial in the Bard consolidated litigation resulted in mixed verdicts. In the first one, the jury awarded the plaintiff $3.6 million in damages. Juries in the second and third bellwether trials, however, decided in favor of the defendants.
In the Cook consolidated litigation, the jury went with the defendants in the first bellwether trial, but in the second, they awarded the plaintiff $1.2 million in damages.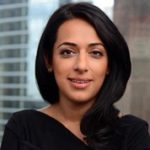 Exclusively focused on representing plaintiffs—especially in mass tort litigation—Roopal Luhana prides herself on providing unsurpassed professional legal services in pursuit of the specific goals of her clients and their families. While she handles complex cases nationwide on behalf of consumers, Ms. Luhana resides with her family in Brooklyn, New York.