Back in January 2017, plaintiffs filed a motion with the U.S. Judicial Panel on Multidistrict Litigation (JPML) seeking consolidation of all Stryker LFIT V40 femoral head lawsuits, stating that consolidation would serve the convenience of all parties involved, and would help avoid duplicative and conflicting rulings. They named the U.S. District Court for the District of Massachusetts as the best location for pre-trial proceedings.
The defendants (Howmedica Osteonics Corp, often referred to as Stryker Orthopaedics) filed a motion opposing consolidation, arguing that it was inappropriate considering the small number of actions pending and that the Stryker LFIT V40 femoral head is used in so many different totally hip replacement systems, thereby reducing common questions of fact.
The number of cases is increasing, however. On February 22, 2017, a Massachusetts woman filed a Stryker LFIT V40 femoral head lawsuit in the District of Massachusetts, claiming that after she was implanted with a hip system including this component, she suffered serious injuries.
Plaintiff Suffers from Stryker LFIT V40 Metallosis and Trunnionosis
According to her complaint, the plaintiff received a hip implant that included the LFIT V40 femoral head on July 30, 2007. She says that after implantation she started experiencing discomfort in the area of the hip joint. She went to her doctor, and after several tests, it was determined that there was no infection, malposition or loosening of the device. Initially, it seemed that everything was fine.
A further diagnostic workup, however, revealed that the plaintiff had markedly increased levels of metal ions in her blood. This sort of finding indicates a condition called "metallosis," in which metal components in the hip joint rub against one another and shed small pieces of metal into the surrounding joint, as well as leaching metal ions into the bloodstream.
This can cause a number of problems including inflammation, pain, and difficulty walking, and can also result in systemic issues including nerve damage, kidney impairment, neurological changes, thyroid problems and cognitive problems.
Based on these findings, the plaintiff's surgeon recommended revision surgery. The plaintiff underwent revision surgery on July 21, 2014. During the procedure, her doctors discovered that there was significant metallosis and trunnionosis in the hip joint, resulting in soft tissue damage. Trunnionosis is a term describing corrosion between the metal surfaces at the head-neck connection of the joint.
The surgeon also noted corrosion at the taper junction between the Stryker Accolade stem and the Stryker LFIT V40 femoral head. The taper junction is the area that connects the femoral head to the femoral stem.
As with most revision surgeries, this one required the plaintiff to endure extensive rehabilitation. She blames Stryker for allegedly designing a defective product in the Stryker LFIT V40 femoral head. She brings counts of negligence, breach of warranties, and seeks compensatory damages.
Stryker Recalls LFIT V40 Femoral Heads Due to Higher Than Expected Number of Complaints
On August 29, 2016, Stryker released an urgent medical device product field action notification that alerted doctors and hospitals to the company's voluntary recall of certain LFIT V40 femoral heads. Stryker noted that they were implementing the recall because of a higher than expected number of complaints. They listed potential hazards as including excessive metallic debris and disassociation of the femoral head from the hip stem.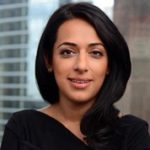 Exclusively focused on representing plaintiffs—especially in mass tort litigation—Roopal Luhana prides herself on providing unsurpassed professional legal services in pursuit of the specific goals of her clients and their families. While she handles complex cases nationwide on behalf of consumers, Ms. Luhana resides with her family in Brooklyn, New York.