After years of defending thousands of lawsuits concerning its DePuy ASR and DePuy Pinnacle metal-on-metal hip replacement devices, Johnson & Johnson (J&J) has announced that it will discontinue these products. The company noted in a press release that demand for these devices has waned, and that new, stricter approval processes required by the FDA also affected the decision.
FDA Requires More from Hip Manufacturers
On January 2013, the FDA noted that metal-on-metal (MoM) hip implants have unique risks in addition to the general risks of all hip implants, including the risk of metal contamination, which can then lead to tissue and bone damage, premature loosening, and early implant failure.
In 2011, the agency required manufacturers of these devices to conduct post-marketing studies to determine safety, and now is also requiring manufacturers who received approval for their devices through the fast-track 510(k) program to now submit premarket approval (PMA) applications.
That means that hip replacement systems that before had only to show they were significantly similar to other devices already on the market would now be required to show safety and effectiveness through clinical trials.
Johnson & Johnson Discontinues Metal Options
Devices affected by J&J's decision include the following:
Ultamet Metal-on-Metal Articulation
Complete Ceramic-on-Metal Acetabular Hip System
Both products include two components—a cup liner and a femoral head. Both use the same metal liner. The discontinuation will be effective August 31, 2013. The company noted that the Pinnacle Cup is not impacted by this discontinuation, and will continue to be offered with both medical-grade plastic and ceramic liners. The metal liner will no longer be available, however.
According to the press release, DePuy is focusing on "fewer, worldwide strategic product platforms that meet patient and clinician needs and ensure long-term growth." The company made the decision to discontinue the MoM options because of "low clinician use of Ultamet and Complete, the availability of other options that meet the clinical needs of patients, and proposed changes in FDA regulation of the entire class of metal-on-metal products, which includes Ultamet."
The company goes on to explain that the use of MoM and ceramic-on-metal bearings is "extremely low and not expected to increase." They state that in 2012, MoM bearings comprised less than two percent of those implanted, which represents a decline of 90 percent in industry sales since 2007. "The Ceramic and Ultamet brands now represent less than one percent of DePuy bearings sold in these markets."
FDA Requirements Affecting Decision
The press release adds that the proposed change by the FDA to require all MoM hips with 510(k) clearances to be approved through the PMA process also affected their decision. "Investing resources to seek and maintain a PMA in low-use brands like Ultamet and Complete does not align with this long-term strategy," the company stated.
J&J stated that this is not a recall, but simply a discontinuation of sales. In 2010, DePuy did recall the ASR system, and has since defended thousands of lawsuits concerning complications with the device. In March 2013, a Montana plaintiff was awarded $8.3 in damages in the first lawsuit to go to trial.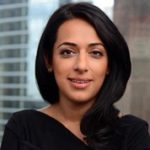 Exclusively focused on representing plaintiffs—especially in mass tort litigation—Roopal Luhana prides herself on providing unsurpassed professional legal services in pursuit of the specific goals of her clients and their families. While she handles complex cases nationwide on behalf of consumers, Ms. Luhana resides with her family in Brooklyn, New York.