On October 17, 2017, an Iowa family filed a new Stockert 3T heater-cooler infection lawsuit in the U.S. District Court for the Southern District of Iowa. The plaintiff claims that he was exposed to Mycobacterium chimaera (M. chimaera) bacteria and developed a dangerous infection, as a result of a heater-cooler unit that was used during his open-heart surgery.
The plaintiffs seek in excess of $75,000 in damages.
Plaintiff Drops 30 Pounds Two Years After Open-Heart Surgery
According to the complaint, the plaintiff underwent open-heart surgery on March 25, 2013. About two years later, he went back to the doctor after losing 30 pounds unexpectedly. His doctor referred him to a specialist at the Center for Digestive Diseases-Hepatology.
That doctor reviewed the patient's liver biopsy from February 27, 2015, which showed "multiple granulomas distributed throughout the lobule, as well as the portal areas." Liver granulomas are inflamed masses of tissue that can form in response to a bacterial or viral infection.
The doctor also compared this biopsy with CT scans taken about the same time that showed the "liver and spleen had increased significantly in size" compared to CT scans taken in 2014 and in 2013. The gallbladder wall also showed thickening.
The doctor ordered an extensive workup, looking for fungal and mycobacterial infections. All the tests came back negative. Bone marrow biopsies also showed no lymphoma. The doctor concluded that the plaintiff had "idiopathic granulomatous disease" without an underlying infection.
Plaintiff Suffers from Vision Loss
In May 2015, the doctor reviewed additional test results, which suggested that the plaintiff was responding to steroid therapy.  At that time, the plaintiff seemed to be developing "hypogammaglobulinemia," which is an immune disorder that involves reduced antibodies to fight infection. The patient also had mild neutropenia, which is a lack of white blood cells that fight infection.
The plaintiff's condition continued to deteriorate.  He continued to lose more weight, suffered from an enlarged spleen, and worsening pancytopenia, a condition involving the reduction in the number of red and white blood cells, and platelets.
Finally, in February 2016, the plaintiff received a letter from the University of Iowa Hospitals and Clinics, where he had undergone open-heart surgery in 2013. The letter explained that the plaintiff had been exposed to a virulent strain of nontuberculous mycobacteria (NTM) called M. chimaera during surgery via the Stockert 3T heater-cooler system used to regulate the patient's blood temperature.
The plaintiff went back to the doctor and began treatment for M. chimaera. By this time, however, the bacteria had already caused significant damage. The plaintiff suffered profound impaired color vision loss and was diagnosed with vitritis of both eyes. He states in his complaint that he continues to suffer from vision loss, and ongoing physical and emotional pain.
CDC Links Bacteria to Heater-Cooler Units
Lawsuits have been filed around the country against the manufacturers of the 3T heater-cooler. The Centers for Disease Control and Prevention (CDC) reported in October 2016 that NTM infections had been traced to the heater-cooler units, manufactured by LivaNova Deutschland GmbH.
The plaintiff asserts design defect, manufacturing defect, and failure to warn claims, and seeks both compensatory and punitive damages.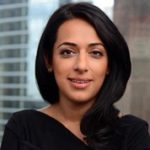 Exclusively focused on representing plaintiffs—especially in mass tort litigation—Roopal Luhana prides herself on providing unsurpassed professional legal services in pursuit of the specific goals of her clients and their families. While she handles complex cases nationwide on behalf of consumers, Ms. Luhana resides with her family in Brooklyn, New York.