The Ethicon Physiomesh multidistrict litigation continues to grow in the Northern District of Georgia. All federally filed cases were transferred there in June 2017, with District Judge Richard R. Story overseeing the pre-trial proceedings.
On June 21, 2017, a Georgia woman filed a Physiomesh lawsuit against defendants Ethicon and Johnson & Johnson (J&J). She filed on behalf of her deceased husband and is the representative of his estate. She claims that her husband suffered complications associated with a Physiomesh hernia repair and that he deteriorated so badly he passed away. She seeks both compensatory and punitive damages.
Plaintiff Suffers Numerous Complications After Physiomesh Implantation
According to the plaintiff's complaint, her husband was implanted with Ethicon's Physiomesh on June 26, 2015, to repair an incarcerated ventral hernia. This is a type of hernia that occurs in the abdominal area, in which the tissues are strangulated and lacking a blood supply. The condition is considered serious and usually requires immediate surgery.
A few days later, on July 9, 2015, the decedent went back to the doctor because of severe abdominal pain and worsening edema. He had to go back into surgery on July 22, 2015, to repair the hernia and to treat a possible incarcerated small bowel. Unfortunately, this was only the first of numerous surgeries.
On July 30, he was again admitted with hematoma and a related infection, and on November 1, 2015, he underwent surgery to debride the abdominal wound. Then on November 4, doctors found that the implanted Physiomesh was infected and had not incorporated into his tissues. The Physiomesh was removed, and doctors put a biologic form of mesh in its place.
The plaintiff continued to have problems and had to be treated again on November 11, 2015.
Plaintiff Blames Physiomesh for Husband's Death
Months later, in April 2016, the decedent was examined again and doctors reported that his abdominal wound had not improved. On May 10, 2016, he was diagnosed as in serious condition and referred to the Emory Hospital in Atlanta, Georgia. The complications continued, and on January 31. 2017, the decedent passed away of septic shock, respiratory failure, and acute renal failure.
The plaintiff blames Physiomesh for starting all the problems her husband suffered from, noting that the product was defectively designed and was not safe for hernia repair. She blames the product's multi-layer design for encouraging infection and swelling, and for leading to her husband's subsequent infections and other complications.
She adds that neither her husband nor his doctors were properly informed by the defendants of the defective and dangerous nature of Physiomesh. Because the product failed to perform as expected, her husband suffered serious injuries, had to go through multiple surgeries, and ended up with worse problems than he had to begin with.
In May 2016, Ethicon issued an urgent field safety notice advising doctors to stop using Physiomesh because of higher than expected reports of recurrence and reoperation rates.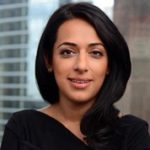 Exclusively focused on representing plaintiffs—especially in mass tort litigation—Roopal Luhana prides herself on providing unsurpassed professional legal services in pursuit of the specific goals of her clients and their families. While she handles complex cases nationwide on behalf of consumers, Ms. Luhana resides with her family in Brooklyn, New York.