In December 2015, the U.S. Judicial Panel on Multidistrict Litigation (JPML) consolidated all federally-filed Bair Hugger warming blanket lawsuits into one court in the District of Minnesota for pre-trial proceedings.
Since then, the litigation has grown, with over 1,000 cases now pending. Currently, the first bellwether cases are scheduled to ready for trial by April 2018.
Parties Prepare Two Cases for Bair Hugger Bellwether Trials
In January 2017, the parties selected 150 cases for potential bellwether trials. From these cases, they narrowed the list to 31, and then to only two—one chosen by each side.
An October 20, 2017 court order set the schedule and process leading to the first two trials. Case specific discovery was to be completed by December 8, 2017, and depositions of expert witnesses are to be completed by January 30, 2018. Case-specific dispositive motions are to be filed by February 6, 2018, and the cases must be ready for trial on and after April 30, 2018, after which time the court will determine the trial dates.
The two cases that are to go to trial involve plaintiffs who underwent knee replacement surgery in which a Bair Hugger warming blanket was used. The plaintiffs claim that the forced-air design of the blanket caused them to suffer from deep joint infections after surgery.
Studies Suggest Forced Air Warming May Increase Risk of Contamination
The Bair Hugger warming blanket helps keep patients warm during surgery. It consists of a central heating unit, a hose, and a blanket. The central unit draws in operating-room air through a filter, then heats and forces that air through the hose. The hose feeds the warm air into passageways in the blanket. Perforations in the blanket allow the warm air to warm the patient.
Plaintiffs allege that the forced air that exits the blanket and circulates in the room is warmer than the air already in the room, so it stirs up that air, lifting potentially contaminated air from the floor, or carrying it from the central unit or hose, into the patient's open surgical area.
According to an article in the New York Times, Dr. Scott D. Augustine, inventor of the Bair Hugger warming blanket, no longer supports the use of the device and has expressed his concern that it poses a danger to patients. The doctor has since invented a new warming device that doesn't use forced air. He promotes this device as a safer alternative.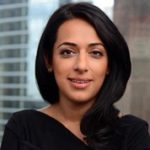 Exclusively focused on representing plaintiffs—especially in mass tort litigation—Roopal Luhana prides herself on providing unsurpassed professional legal services in pursuit of the specific goals of her clients and their families. While she handles complex cases nationwide on behalf of consumers, Ms. Luhana resides with her family in Brooklyn, New York.